Cars and SUVs are great for carrying people and small loads such as groceries or small appliances. But, when you're packing for a weekend getaway with half of your house in tow to feed, clothe, and amuse five kids, you know you need more than your trunk. 
Or maybe you got this new boat and can't wait to try it out. How do you get it to and from the water? How do you get your regular garden and farm supply without staining your carpet or ruining your car's upholstery? 
Trucking or delivery can quickly answer your dilemma, but if you need to regularly go on family outings or take frequent trips to the store, it can become costly. 
The solution? A trailer.
Trailers are virtual extensions of your vehicles. These non-powered attachments are beneficial if you're continually hauling heavy loads. They also provide additional space to carry bulky cargo and ensure safe transport through distances. Trailers are practical tools used around homes, farms, and even businesses.
Why The Difference?
While their primary purpose is to provide moving convenience, trailers come in various types and sizes to suit specific needs. Trailers can also be closed or open, large or small. They can either be simple or styled to create an exact fit for your vehicle. 
There are different types of trailers with different carrying capacities. Some can carry lighter loads, while others move heavy or multiple loads. The designs are suited for the items to be transported. For instance, flatbed trailers are ideal for large or bulky loads, while vehicle carriers are more suitable for cars. Boats, too, require trailers of specific dimensions.
Some trailers are geared toward personal use for travel, homes, and gardens; others are for farm and livestock or for heavy-duty loads such as logs, sand, and stone. They can even carry equipment and machinery. Whatever your needs, companies like Lucca Trailers have one that will, indeed, address your hauling concerns. You can even have a custom-built trailer to suit a variety of needs.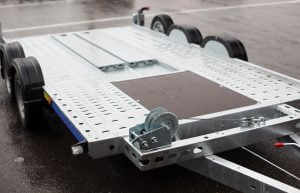 Types of Trailers
There are different types of trailers as there are different purposes and materials that require hauling. Some of the most common purposes of trailers include:
Travel trailers are ideal if you love camping or traveling. These are often hitched to a car or pick up to serve as your comfy haven when you're outdoors. Travel trailers are houses on wheels complete with amenities in a compact setting.
Trailers can also work for towing inoperable vehicles. While towing straps can do the work, trailers are more stable on the road and can help steady your vehicle even when pulling another car or truck across long distances. 
Transporting vehicles from one point to another is made more comfortable with a car carrier trailer. This hauler can carry anywhere from 1 to 4 cars and can either be closed or open. They are ideal for carrying custom cars, ATVs, SUVs, or motorcycles. Car haulers have hydraulic-powered ramps to allow the loading and unloading of vehicles. They can come in various designs and can feature different types of axles to ensure stability during transport.
Boat trailers are an efficient way of carrying boats to and from water. These specialized carriers guarantee tolerance of the boat's weight with adjustable rollers that make loading and unloading convenient. 
Hauling Equipment and Machinery 
Vehicles have specific carrying capacities. Going beyond this can damage your car's tires and suspension, which can lead to additional costs. Using trailers to haul farm machinery or business equipment relieves your vehicle's burden by distributing weight evenly.  It also helps you load and unload equipment without requiring an additional workforce. 
Trailers can also give you good business logistics. You can use a flatbed trailer to carry heavy loads or opt for a closed version to keep your products fresh and secure from harsh elements.  
Having a trailer is also practical for home and personal use. It can quickly load large furniture and appliances. It can also help you move construction debris or trash which you would otherwise have to load into your car. 
Conclusion 
Trailers provide additional support for vehicles required to carry or transport heavy loads. These provide additional space and ensure stability for the vehicle and its load during travel. Trailers can function as mobile homes, towing utilities, vehicle and machinery transport, goods delivery, and for all-around personal use.  Not only are these great haulers for different types and needs, as these can also serve as valuable investments for individuals and businesses.