Australian vehicles market falls affected by the worldwide COVID-19 pandemic. Indeed, Full Year 2020 sales have been 916.878, down 13.8% compared to 2019. The leader Toyota remains almost flat (-0.5%), while Mitsubishi plummets 29.9%.
Market Trend
The Australian car market has been hit in 2020 by the worldwide COVID-19 pandemic, which has impacted sales significantly.
The market (passenger cars+LCVs) has moderately expanded in the 2012-2017 time period. Indeed, annual car passenger sales grew from 1.072.000 in 2012 to 1.178.546 in 2017, with is the current all-time Record.
However, in 2018 the market embarked on a negative pathway, reporting a 3.2% loss, while in 2019, mirroring the shy economic environment, registrations fell at the lowest volume since 2011.
At the beginning of the Coronavirus outbreak, the Australian government has been slower in enforcing lockdown measures for non-essential businesses and imposing social distancing. Indeed, most car dealerships were allowed to remain active through March.
After starting the year with a slight negative trend (-12.4%), the market started falling further in March. The sharpest drop in sales this year was in April when sales declined by 48.4%. For the rest of the year, the market remained with negative sales up to Q4, when sales recovered and the market started growing again (+12.6% in November and +14.4% in December).
Indeed, Full-Year sales for 2020 have been 916.878, reporting a decline of 13.8% compared to 2019.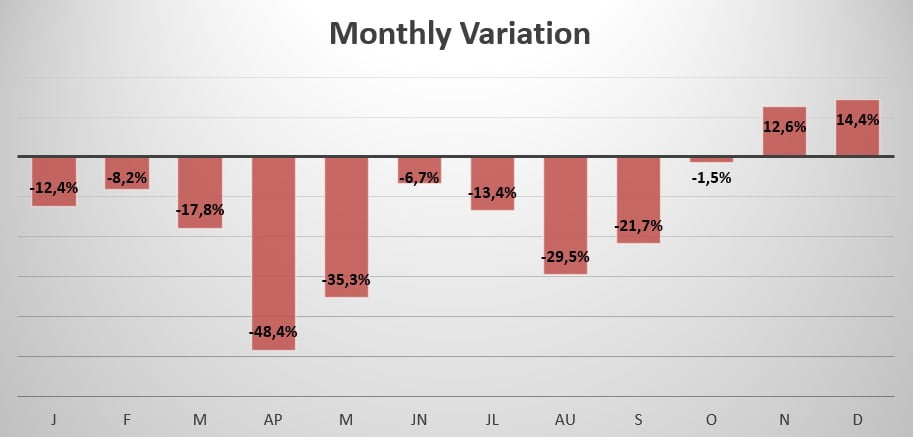 Brand-wise, this year the leader Toyota (-0.5%) gained 3% market share and reported the best hold in the leaderboard, followed by Mazda (-12.3%), which gained 0.3% share. Hyundai on the other hand lost 1% share, falling 24.7%.  Ford reached 4th place (-5.8%), followed by Mitsubishi which lost 29.9%, reporting the sharpest drop on the leaderboard.
Kia lost 8.8%, followed by Volkswagen (-21.4%) and Nissan which lost 24.2% sales. Closing the leaderboard we have Mercedes losing 6.1% this year and Subaru entering the leaderboard and losing 21.3%.
The most sold vehicle this year has been the Toyota Hilux (-5.2%) with 45.176 units sold, followed by the Ford Ranger, which gained 0.7% registering 40.973 new sales this year. The Toyota Rav4 (+58.8%) closes the podium by jumping 5 spots and reports 38.537 new units sold.
Tables with sales figures
In the tables below we report sales for top 10 Brands and top 10 Models