Bosnia's Auto market in 2021 rises by 11.9% with 7,538 sales, reporting a positive performance all year except for Q1. Kia reported the best performance on the leaderboard, rising 121%.
Market Trend
Bosnia's car market this year reported a positive performance, growing all year except for Q1.
The market in recent years has recovered following the deep fall scored in the 2008-2009 crisis. Moreover, after reporting a sharp drop in 2013, the market has steadily recovered reaching in 2017 10,803 sales – up 21.8% – keeping a positive score trend also during 2018, when registrations grew 1.1% at 9,690. In 2019, the market held a positive trend, with total sales at 9,866 (+1.8%).
Due to the COVID-19 pandemic sales fell in  2020. In fact, 7,267 units have been sold, reporting a decline of 26.3% compared to 2019.
In 2021 the year started negatively for the Bosnian market, in fact, in Q1 1,622 units have been sold, reporting a 12% decrease in sales compared to Q1 2020, in Q2 sales started growing quickly, reporting a 55.1% increase in sales with 2,193 units due to the extremely low sales reported in Q2 2020.
In Q3 sales slowed down, gaining 8.1% sales with 1,959 units, and rose 5.8% in Q4 with 1,764 units.
Indeed, Full-Year sales for 2021 have been 7,538, reporting a 11.9% increase compared to 2020.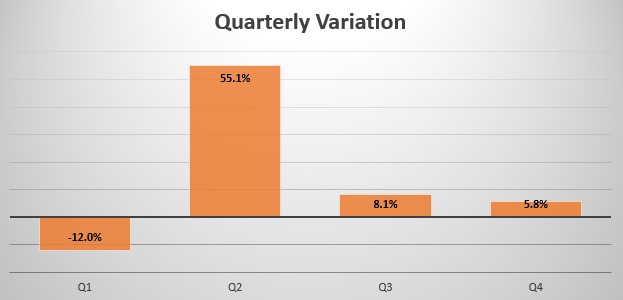 Brand-wise, this year the leader Skoda (-7.5%) lost 3.6% market share, followed by Volkswagen (+24.8%), which gained 1.5% share. Toyota gained 2% share, rising 54.3%.  Dacia fell in 4th place (+5.7%), followed by Renault which gained 15.3%.
Kia -up 4 spots- gained 121% reporting the best performance, followed by Hyundai -down 2 spots- which gained 8.2%, and Peugeot which lost 1.5% sales. Closing the leaderboard we have Audi -down 1 spot- losing 10.8% this year, reporting the worst performance on the leaderboard, and Mercedes entering the leaderboard by jumping 1 spot, gaining 40.5%.
The most sold vehicle this year has been the Skoda Octavia (-21%) with 429 units sold, followed by the Skoda Fabia, which gained 38.5% registering 338 new sales this year. The Kia Sportage (+277.5%) closes the podium and reports 336 new units sold.
Tables with sales figures
In the tables below we report sales for all Brands, top 10 Manufacturers Group and top 10 Models