Brazil's Auto market in 2021 gains just 1% with 1.98 million sales, reporting a positive performance just in Q2, but fell in double-digits in Q3 and Q4. Fiat is the new market leader, reaching 1st place by rising 2 spots.
Market Trend
The Brazilian car market this year attempted to recover from the pandemic crash of 2020 and but reported positive performance only in Q2.
The market in Brazil fell from a record of 3.6 million in 2012, when ranked as 4th globally, below the 2 million in 2016 (1.989.000 units) with a vertical unprecedented and unexpected fall.
The main reason behind the fall was the National Automotive Plan released in 2013 which imposed on the manufacturers' new standards in terms of contents, safety, emissions further reserving advantages to models locally produced towards the imported from outside the region.
However, the domestic car market bottomed out in the first quarter of 2017 when the volume was over 45% below the 2013 level and a new positive path was approached. After ending 2017 with a recovery of 9.2%, in 2018 and in 2019 the market further improved reaching 2.66 million units.
The car market was hit extremely harshly in 2020 as the country was the third in the world by the number of infections. In 2020 sales have been 1,954,828, reporting a decline of 26.2% compared to 2019 due to the COVID-19 impacting sales significantly.
In 2021 the year started negatively for the Brazil market, in fact, in Q1 497,913 units have been sold, reporting a 6.8% decrease in sales compared to Q1 2020, while in Q2 sales started growing, reporting a 120.3% increase in sales with 508,896 units due to the incredibly low volumes in Q2 2020.
In Q3 sales started falling in double-digits, losing 13.6% sales with 463,272 units, and kept dropping 22.7% in Q4 with 505,096 units.
Indeed, Full-Year sales for 2021 have been 1.98 million, reporting a 1% increase compared to 2020.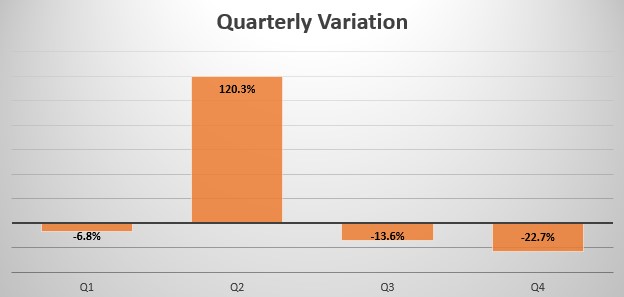 Brand-wise, this year the new leader Fiat (+33.9%) gained 5.4% market share, followed by Volkswagen (-8.4%), which lost 1.6% share. Chevrolet on the other hand lost 27.7%, losing 4.9% share and reporting the worst performance on the leaderboard.  Hyundai remained in 4th place (10.1%), followed by Toyota which gained 25.4%.
Jeep reached 6th place and gained 35.1%, followed by Renault which fell 3.1%, and Honda (-3.2%). Closing the leaderboard we have Nissan rising 6.4% this year and Chery reported the best performance in the leaderboard by gaining 97.9%.
The most sold vehicle this year became the Fiat Strada by gaining 36.3% with 109,114 units sold, followed by the Hyundai HB20, which lost 0.1% registering 86,464 new sales this year. The Fiat Argo (+28.4%) closes the podium and reports 84,656 new units sold.
Tables with sales figures
In the tables below we report sales for all Brands, top 10 Manufacturer Groups, and top 10 Models.