Italian Auto market in 2021 rises by 5.5% with 1.46 million sales, reporting a very strong first half, followed by a double-digit fall in the second part of the year. Toyota reports the best performance this year, gaining 22.6%.
Market trend
The Italian car market this year attempted to recover from the pandemic crash of 2020 and reported a very promising performance in the first half, followed by another double-digit fall.
Following the deep loss during the 2008-2011 crisis, when the market fell down from 2.4 up to 1.4 million units, the Italian vehicles market recovered in the period 2012-2017 reaching back the 1.96 million cars (plus LCVs to arrive at a total light vehicles market of 2.14 million).
Back at the physiological level, the market growth ended and a new phase, moderately declining, started in 2018 when sales declined 2.6% while holding a flat trend in 2019 with 1.92 million units sold.
The market suffered tremendously in 2020 as the global pandemic has impacted Italy very quickly. In fact, the fall was so harsh that we recorded the lowest annual volume for the country since 2014. Indeed, sales for 2020 have been 1,380,202, reporting a decline of 27.8%.
In 2021 the year started positively for the Italian market, in fact, in Q1 446,683 units have been sold, reporting a 28.6% increase in sales compared to Q1 2020 and kept growing quickly, reporting a 84.9% increase in sales with 437,201 units due to the incredibly low volumes in Q2 2020.
In Q3 sales started falling again in double-digits, losing 26.5% sales with 280,323 units, and remained down 29.6% in Q4 with 292,172 sales.
Indeed, Full-Year sales for 2021 have been 1.46 million, reporting a 5.5% increase compared to 2020.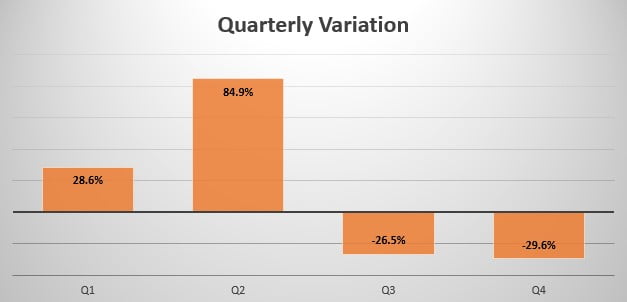 Brand-wise, this year the leader Fiat (+9%) didn't report any variation in market share, followed by Volkswagen (+2.7%), which lost 0.5% share. Peugeot (+6.6%) reached 3rd place, losing 0.1% share.  Toyota -up 2 spots- gained 22.6%, followed by Ford -down 2 spots- which lost 5.9%.
Renault registered the worst performance in the leaderboard by losing 8.3% and fell 2 spots, followed by Citroen (+4.8%) and Jeep which gained 9.7% sales. Closing the leaderboard we have Dacia -up 1 spot- gaining 13.7% this year and Audi rising 1 position and gaining 13.6%.
The most sold vehicle this year has been the Fiat Panda (+40.1%) for the 10th year in a row with 112,246 units sold, followed by the Fiat 500 -up 30 spots-, which gained 229.3% registering 44,766 new sales this year. The Lancia Ypsilon (+73.9%) closes the podium by jumping 6 spots as well and reports 44,595 new units sold.
Tables with sales figures
In the tables below we report sales for all Brands, top 10 Manufacturers Group and top 10 models.