Italian best-selling cars ranking in again dominated by the Fiat Panda, which in the 2019 is surprisingly recovering terrain, ahead of the last surviving Lancia, the model Ypsilon and the best imported model, the Renault Clio. Huge success found by the last generation of the Dacia Duster while the new entrance on top of the list is the Volkswagen T-Roc.
Despite the national brand – Fiat – declines – the best-selling model keep to be the city-car Fiat Panda which has lost terrain in the last decade from a market share of 7.9% in the 2010 to a negative record of 6.0% in the 2018, before to show recovery in the 2019 (6.9%).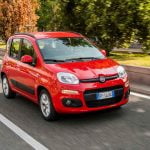 In the second place there is the survived model of the glorious but dead italian brand Lancia, the Lancia Ypsilon, which keep to find large lovers among italian female and is almost stable at a market share near 3%.
In third place the Renault Clio, leader among the imported vehicles, with a market share which follows the model age, with a last decade record share of 3.5% in the 2014 and actually penalized by the run-out of the previous version before of the current launch of the last generation.
Launched in the 2014 and produced in the italian plant of Melfi, in Basilicata, the Jeep Renegade ranks in fourth place with a record share of 2.1% ahead of the Fiat 500x one of the few Fiat still produced in Italy, in Melfi on the same Renegade platform, and the Dacia Duster which benefit from the second generation success and is jumping up a record share of 2.1%.
The beautiful Citroen C3 stands in seven place stable with a share in the range of 2.0%, below the share obtained by the previous generation, due to the less space available in the market for hatch models, after the success of small SUVs.
The new entrance on top of the list is the made in Germany Volkswagen T-Roc that is by the Toyota Yaris, leader in the hybrid combustion segment and the Fiat 500, in decline.
Tables with sales figures
In the tables below we report sales for the Top 50 models.