Luxembourg auto market in 2020 falls by 17.9% as the pandemic and lockdowns affect sales. Full-Year sales have been 45.189. Peugeot falls in 7th place and loses 30.9%, while Skoda (+11.5%) climbs the leaderboard.
Market Trend
The Luxembourg car market has been hit in 2020 by the world-wide COVID-19 pandemic, which has impacted sales significantly.
The market in the last decade fluctuated around 50k annual sales. In 2018 registrations confirmed the positive tone shown since early 2017 with moderate growth. Indeed, car passenger sales in 2018 were at 52.667 (+0.9%). In 2019, the market was still on a positive track, growing by 4.4% with 55.008 units sold, signing the 4th consecutive annual gain.
After starting the year with a slightly positive trend (+2.7%), the market quickly started collapsing in March as the virus struck. The sharpest drop in sales this year was in April when sales declined by 78.9%. In the following months, the market recovered swiftly and grew again in July by 14.9%. In the second half of the year, the country experienced a mixed trend, gaining 23.1% in September but falling 18.6% the following month. Nevertheless, in December the market was up again 7.3%.
Indeed, Full-Year sales for 2020 have been 45.189, reporting a decline of 17.9% compared to 2019.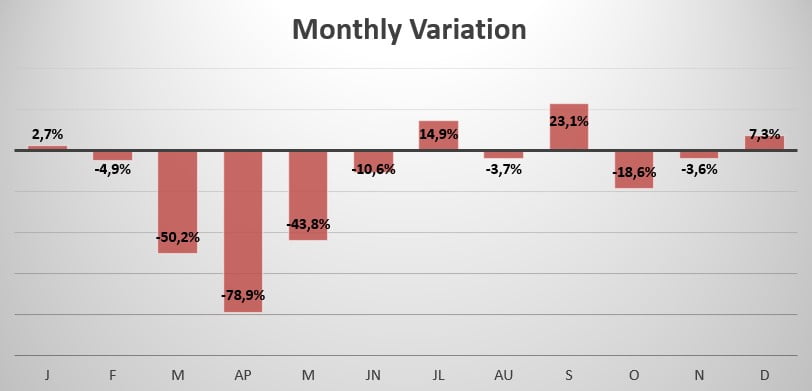 Brand-wise, this year the leader Volkswagen (-24.2%) lost 0.9% market share, followed by Mercedes (-10.1%), which gained 0.9% share. BMW gained 0.4% share, falling 13.8%.  Audi remained in 4th place (-8.5%), followed by Skoda -up 2 spots- which gained 11.5% and registered the best performance in the leaderboard.
Renault fell in 6th position and lost 30.4%, followed by Peugeot -down 1 spot- which reported the worst performance on the leaderboard by losing 30.9%, and Ford which lost 19% sales. Closing the leaderboard we have Volvo losing 30.8% this year and  Hyundai entering the leaderboard and losing 7.6%.
Tables with sales figures
In the tables below we report sales for all Brands and top 10 Manufacturers Group.