Madagascar's Auto market in 2021 gains 9.6% with 1,919 sales, reporting a double-digit in sales in Q2 and Q3. Renault reports worst performance on the leaderboard, and loses 4.3% market share.
Market Trend
Madagascar's car market this year grew effectively but remained flat in Q1 and Q4.
Madagascar's vehicle market has been characterized by an unstable trend in recent years. Indeed, after being hit by a large drop in 2016 the market immediately recovered, bouncing back in 2017 at 2,126 units. However, in the following years registrations started declining, and in 2018 fell 6.2% at 1,995 units.
In 2019, signed the second consecutive year of decline. Indeed, Full-year sales have been 1,894, down 5.1% from the previous year.
Due to the COVID-19 Pandemic full-Year sales for 2020 have been 1,751, reporting just a decline of 7.8% compared to 2019.
In 2021 the year started quite flat for the Madagascar market, in fact, in Q1 481 units have been sold, reporting only a 0.2% decrease in sales compared to Q1 2020, while in Q2 sales started growing effectively, reporting a 28% increase in sales with 476 units sold due to the incredibly low sales volume registered in Q2 2020.
In Q3 sales kept rising 16.7% with 481 units sold, while in Q4 sales remained flat, losing just 0.8%.
Indeed, Full-Year sales for 2021 have been 1,919, reporting a 9.6% increase compared to 2020.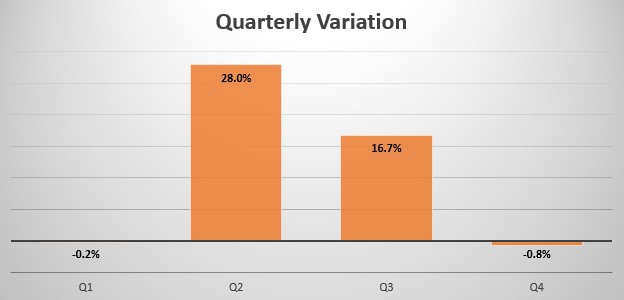 Brand-wise, this year the leader Toyota (+22.5%) gained 2.4% market share, followed by Renault (-11.1%), which lost 4.3% share. Ford (+36.2%) was in the third position and gained 1.9% market share.
The most sold model in the country remains the Toyota Hilux with 352 sales (+30.4%), holding 18.3% market share.