New Caledonia's Auto market in 2021 gains 4.2% with 8,235 sales, reporting a negative performance throughout the second half of the year. Nissan reports the best performance on the leaderboard, rising 51.5%.
Market Trend
New Caledonia's car market this year grew slowly but dropped in double-digits in the second half of the year.
The market in recent years has lost steam declining from 11,059 units sold in 2012 to 8,410 in 2016. During 2017 consumer demand was stable and the year ended with a little recovery, up 1.6% at 8,544 units. In 2018 the market registered a negative performance, with 8,206 sales, losing 4% from the previous year. In 2019 the market kept the previous year's negative trend. Indeed, the Full-year ended with sales at 7,728, declining 5.8% from the previous year.
Despite the COVID-19 Pandemic full-Year sales for 2020 have been 7,909, reporting a 2.3% increase in sales compared to 2019.
In 2021 the year started negatively for the New Caledonia market, in fact, in Q1 1,567 units have been sold, reporting a 16.7% increase in sales compared to Q1 2020, and in Q2 sales kept growing, reporting a 58.7% increase in sales with 2,258 units due to the low levels of sales experience in Q2 2020.
In Q3 2,390 units were sold, reporting a 3.6% decrease in sales, which fell even deeper in Q4 with 2,020 units sold (-24%).
Indeed, Full-Year sales for 2021 have been 8,235, reporting a 4.2% increase compared to 2020.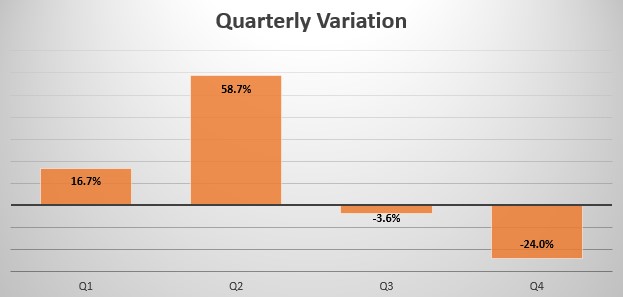 Brand-wise, this year the leader Toyota (-5.8%) lost 2.1% market share, followed by Dacia (-9.4%), which lost 1.6% share. Peugeot lost 0.8% share, falling 2.6%.  Renault reached 4th place (+4.2%), followed by Ford(-5.5%).
Hyundai -up 1 spot- gained 9.6%, followed by Citroen -down 1 spot- which lost 8.5%, and Nissan which reported the best performance on the leaderboard by gaining 51.5% sales. Closing the leaderboard we have Kia gaining 18% and Mitsubishi entering the leaderboard by jumping 2 spots and gaining 27.5%.
The most sold vehicle this year has been the Toyota Hilux (+17.1%) with 534 units sold, followed by the Dacia Duster, which lost 9.6% registering 459 new sales this year. The Ford Ranger (-6.8%) closes the podium and reports 290 new units sold.
Tables with sales figures
In the tables below we report sales for top 10 Brands, and top 10 Models.