Qatar's Auto market in 2021 rises by 13.8% with 46,489 sales, reporting growth in all quarters except for Q1. Leader Toyota loses market share, while Land Rover grows quickly.
Market trend
The Qatari car market this year effectively recovered, performing positively all year except for Q1.
Qatar Vehicles Market in recent years is declining. Following the all-time record established in 2014, when sales hit 100,000 units, the fall of oil price in the international market and the consequent restrictive economic policy, hit the consumer demand starting a negative period not yet ended. Sales fell down for three consecutive years losing the half of 2014 volume and landing at 54,280 units in 2017, losing a huge 25.6%.
In 2018 the market fell down again. Indeed, the year has signed the fourth negative annual score in a row, ending with sales down 6.3%. Moreover, the market has closed with registrations at 50,757, almost half of the 2014 all-time record.
While the negative economic environment moved the Government to postponed the VAT introduction already agreed with the G.C.C. partnership, in 2019 the market was again negative, ending the year at 49,861 registrations, down 1.8%.
Due to the COVID-19 pandemic and the fall in oil prices sales fell in  2020. In fact, 40,725 units have been sold, reporting a decline of 18.2% compared to 2019.
In 2021 the year started negatively for the Qatari market, in fact, in Q1 11,597 units have been sold, reporting a 6.2% decrease in sales compared to Q1 2020, while in Q2 sales started growing quickly, reporting a 74.5% increase in sales with 10,081 units due to the incredibly low volumes in Q2 2020.
In Q3 12,628 units have been sold, increasing sales by 17.6%, while in Q4 sales rose only 1.6% with 12,183 units.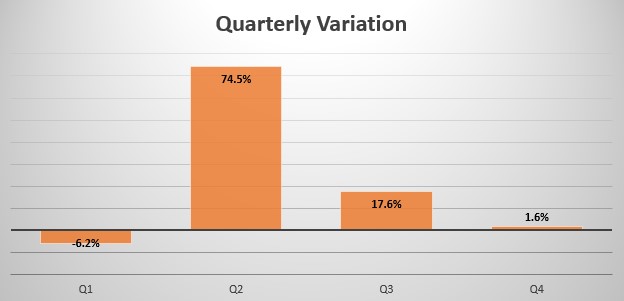 Brand-wise, this year the leader Toyota (-1.4%) lost 4.5% market share, followed by Nissan (-1.6%), which lost 1.7% share as well, and Kia which gained 1.3% share, gaining 39.2%.  Mitsubishi remained in 4th place and gained 23.7%, followed by Hyundai -up 1 spot- which gained 21.6%.
Chevrolet -up 5 spots- reached 6th place and grew 74.2%, followed by MG which gained 24.4% sales. Land Rover -up 7 spots- entered the leaderboard and grew by 96.4%, while closing the leaderboard we have GMC gaining 20.3% this year and Suzuki -down 2 spots- in last place gaining 14.3%.
The most sold vehicle this year remains the Toyota Land Cruiser (-15.3%) with 4,676 units sold, followed by the Toyota Hilux (+4.6%) registering 2,240 new sales this year. The Nissan Patrol (+9.7%) – up 1 spot- closes the podium and reports 1,568 new units sold.
Tables with sales figures
In the tables below we report sales for Top 10 Brands and top 10 models.