Russia's vehicle market in 2021 gains just 2.2% with 1.57 million sales, reporting a positive performance only in Q2, falling significantly in all other quarters. Volkswagen reported the worst performance, losing 13.9%.
Market Trend
The Russian car market this year attempted to recover from the pandemic crash of 2020 and reported a positive performance only in Q2, while all other quarters were progressively falling deeper.
Russian automotive industry grew up at an all-time record of 2.92 million units in 2013, and it was among the top 10 in the World.
However, the market was severely hit by Crimea-related sanctions and since 2014 dropped down losing over half of the volume in only three years landing at 1.42 million units in 2016 when the fall ended, to start a progressive recovery.
The new more positive trend, however, was shy and the market closed in 2018 with 1.8 million units while in 2019 the market pushed the brakes, ending at 1.76 million units (-2.4%).
In 2020 sales have been 1,598,825 , reporting a decline of 9.5% compared to 2019, a slight loss considering the recovery the market experienced in the second half of the year.
In 2021 the year started negatively for the Russian market, in fact, in Q1 364,061 units have been sold, reporting a 9.3% decrease in sales compared to Q1 2020, while in Q2 sales started growing quickly again, reporting a 103.6% increase with 457,150 units sold due to the extremely low sales in the previous year.
In Q3 sales were falling again in double-digits, losing 15.6% sales with 366,255 units, and in Q4 sales fell 19.5% with 385,140.
Indeed, Full-Year sales for 2021 have been 1.57 million, reporting a 2.2% increase compared to 2020.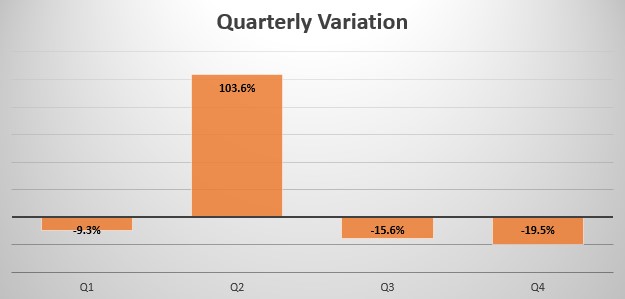 Brand-wise, this year the leader Lada (+2.1%) lost 0.4% market share, followed by Kia (+2%), which lost 0.3% share. Hyundai lost 0.2% shares and fell 2.4%.  Renault (+2.4%) remained in 4th place, followed by Toyota which gained 6.9%.
Volkswagen fell in 6th place and reported the worst performance in the leaderboard by losing 13.9%, followed by Skoda (-4.4%) -down 1 spot- and Gaz which gained 10.4% sales. Closing the leaderboard we have Nissan falling 1 spot and losing 8.9% this year and BMW in last place, gaining 9.6%.
The most sold vehicle this year is the Lada Vesta (+6%) with 113,698 units sold, overtaking the Lada Granta, which lost 11.6% registering 111,430 new sales this year. The Kia Rio (-5.8%) closes the podium and reports 82,941 new units sold.
Tables with sales figures
In the tables below we report sales for top 10 Brands, top 10 Manufacturers Group and top 10 Models.