Singapore's car market in 2021 rises by 2.2% with 45,442 sales, reporting positive performance only in Q2. Hyundai reports the best performance, rising 28.6%, while Mitsubishi drops 45%.
Market Trend
The Singapore car market this year attempted to recover from the pandemic crash of 2020 and reported a positive performance only in Q2.
In the first two months of 2020, according to data released by the Singapore Bureau of Statistics, auto sales started in a very negative tone. Moreover, due to the Coronavirus outbreak, the country took temporary control measures in March and – in response to growing numbers of new cases – announced a stringent set of preventive measures which were collectively called a "circuit breaker", applied from April 7. As a result, the market lost 28.3% in Q1 with 14,699 sales.
In the second quarter, the market reported awful performances throughout all months. Indeed, the sales crumbled 90.1% in April, while completely halting in May (-99.2%) and only moderately improving in June (-82.7%), leading the Q2 at just 1,794 units sold.
As a result, the First Half ended at 16,493, down 50.9% from the previous year. 
In Q3 14,581 units have been sold (-17.9%), reporting an effective recovery, which continued in Q4 with 13,389 units sold (-9.5%).
Due to the COVID-19 pandemic sales fell in  2020. In fact, sales have been 44,455, reporting a decline of 35.6% compared to 2019.
In 2021 the year started negatively for the Singapore market, in fact, in Q1 13,531 units have been sold, reporting a 7.9% decrease in sales compared to Q1 2020, while in Q2 the market reported a very strong relative growth, reporting a 582.6% increase in sales with 12,246 units due to the very low volumes in Q2 2020.
In Q3 sales started falling in double-digits, losing 25.6% sales with 10,852 units, and in Q4 sales fell 34.2% with 8,813 units.
Indeed, Full-Year sales for 2021 have been 45,442, reporting a 2.2% increase compared to 2020.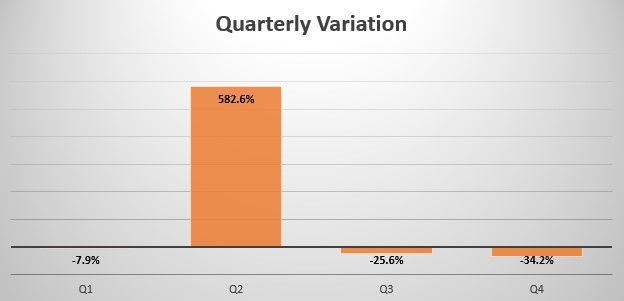 Brand-wise, this year the leader Toyota (-2.5%) gained 2.6% market share, followed in second place by Mercedes (-2.1%), which now holds 11.1% share, and BMW (+20.9%) with 9.1% share.  Honda fell in 4th place and lost 23.4%, followed by Nissan -down 1 spot- which gained 4.1%.
Hyundai reached 6th place and gained 28.6% reporting the best performance, followed by Mazda (-1.9%) -up 1 spot- and Mitsubishi -down 2 spots- which lost 45% sales, reporting the worst performance. Closing the leaderboard we have Audi losing 11.4% this year and Kia -up 1 spot- in last place losing 28.8%.
Tables with sales figures
In the tables below we report sales for all Brands and top 10 Manufacturers Group.