Slovenian auto market in 2020 falls by 24.6% as the pandemic and lockdowns affect sales. Full-Year sales have been 53.694, while Kia is the only brand in the leaderboard to report growth by rising 10.4%.
Market Trend
The Slovenian car market has been hit in 2020 by the world-wide COVID-19 pandemic, which has impacted sales significantly.
The market has fast recovered after the 2009 crisis and domestic sales have grown uninterruptedly in the 2013-2018 time period, with 2018 light vehicle sales at 74.578 growing at a slower speed compared to previous years, up 5.1%. In 2019, the market was marginally negative, ending the 6 years-series of annual growth, with 71.203 units sold (-4.5%).
After starting the year with a slight negative trend (-8.2%), the market quickly collapsed in March as the virus struck. The sharpest drop in sales this year was in April when sales declined by 70.1%.
In the following months, the market recovered effectively, even growing by 11.2% in July, the only positive month in the entire year. Besides July, the entire second half of the year has been characterized by an increasing double-digit drop in sales, from just -10.5% in August to -47.5% in December.
Indeed, Full-Year sales for 2020 have been 53.694, reporting a decline of 24.6% compared to 2019.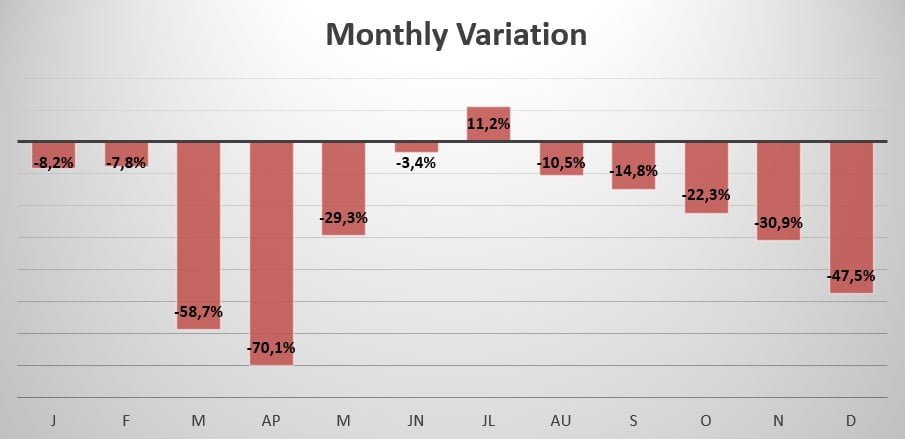 Brand-wise, this year the leader Volkswagen (-28.9%) lost 0.5% market share, followed by the growing Renault (-20.5%), which gained 1.5% share. Skoda gained 0.5% share, falling 23.4%.  Hyundai reached 4th place (-0.3%), followed by Peugeot which lost 18.2%.
Dacia lost 21.8%, followed by Kia which was the only brand to report growth, gaining 10.4%, and Nissan which jumped 2 spots and lost 9.8% sales. Closing the leaderboard we have Citroen -down 1 spot- reporting the worst performance by losing 31.9% this year and Toyota entering the leaderboard by jumping 1 spot, losing 27.7%.
The most sold vehicle this year has been the Renault Clio (+12.9%) with 3.897 units sold, followed by the Skoda Octavia, which lost 24.8% registering 1.920 new sales this year. The Volkswagen Golf (-21.5%) closes the podium and reports 1.875 new units sold.
Tables with sales figures
In the tables below we report sales for all Brands, top 10 Manufacturers Group and top 10 Models.