Owning a car is such a wonderful feeling. It is a significant achievement for most, a dream for many, or simply a hobby for some. Whether you've bought brand new wheels or settled for a secondhand, it doesn't change the fact that you're a certified car owner now. So, congrats! Now, what happens next?
If you purchased your car from AutoTrader, eBay, or a dealership out of state, will you fly out and drive it home or will you have your wheels shipped to you? No need to stress out. Here's everything you need to know about transporting your newly-purchased car.
What to Do When Buying a Used Car
Though you might be itching to get behind the wheel of a new-to-you vehicle, make sure to go through the process of purchasing a used car carefully. Patience is the key. The good news is, most of the steps are the same for all purchase methods, whether you're buying new or old. Caravan Auto Transport, a company that connects you with trustworthy carriers, shares this helpful list of what you should do:
Get the car inspected: You can count on your dealership to get this covered, especially if you are going with a certified pre-owned vehicle. Meanwhile, hire a mechanic to examine your new wheels if you're purchasing online. They can check the exhaust condition, cooling system, engine, fluid systems, and car emissions, and let you know if you're buying a lemon.
Test drive the car: You might not observe the same things a mechanic does, but, in the end, you're still the one who's going to drive the car. It makes sense to go and test it out before you sign on the dotted line. See if you're comfortable enough with driving the vehicle.

Is the acceleration just fine, or does it seem lacking?
How about the brakes? Do they feel jerky or responsive?
Can you turn the steering wheel without any resistance?
What about visibility? Are there any blind spots?
Do you hear weird noises that might indicate mechanical issues?
Does the car have smoke, pet, or other strange odors?
If you find any issues with the car, discuss it with the owner and mechanic for possible solutions or walk from the deal and find a better car.
Transfer the title: So, you've decided to buy the car. What now? First of all, ask the seller to transfer vehicle ownership to avoid future problems. While most dealerships will take care of the paperwork on your behalf, you will have to refer to the DMV for non-dealer transactions.
Obtain insurance: Every state requires car owners to register before they can drive. Accordingly, remember that you can't get past registration without auto insurance as it is proof of your financial responsibility.
Register your vehicle: Alright! Now that you have insurance, it's time to register your car with the DMV in your state. Typically, to register a vehicle, you'll need to bring a copy of your insurance policy along with these other documents:

Vehicle Title
Bill of Sale or any letter from the seller stating the car model, original date of purchase, selling price, and vehicle identification number (VIN)
Driver's license or student permit
The DMV will generally provide a temporary registration sticker for you to use until your plates arrive in the mail.
Prepare for shipping. After you've completed the previous steps, your car will now be ready for transport. Now you can explore the various transport options.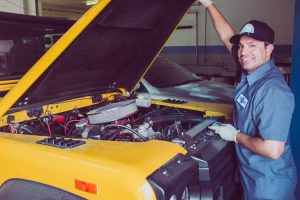 How to Transport a Recently Purchased Used Car
Before anything else, understand that transport follows the same process regardless of where you purchase your car. So, whether you've acquired it from a dealership, eBay motors, or FB marketplace, your options won't be any different.
Here are some of the most common ways to move your car from one state to another:
Enlist the help of an auto transport company. Most dealerships can connect you with their reliable shipping partners for a generous discount. On top of that, you won't have to stress a lot since, like title transfer, the dealership and shipping company will handle the paperwork. If you opt for this method, don't forget to document your car's condition before delivery so you can check for damages upon arrival.
Drive your car. Can't wait to get your hands on the wheels? Then, fly out and bring your wheels back home yourself! Other than being cost-effective, you can turn it into a fun road trip experience. Just remember to perform maintenance and prepare the legal papers before the journey.
Hire a professional driver. If you've snagged a good deal from eBay, you can even save more by getting a professional driver to deliver your car. However, there are certain risks to this method, such as scams or accidents. Make sure to do your research, ask the right questions, and double-check the credentials of the company you're considering.
Hitch it to your moving truck. Bought a car while relocating? If you can pass by the seller's place on a one-way trip, request a towing device from your truck rental company. This will allow you to hook a car to the truck and haul it along to your new home.

What To Look for In a Car Shipping Company
If you go with the hassle-free option of hiring an auto carrier, it's always a good idea to know the ins-and-outs. Check out these valuable tips to avoid scams and to hire the best company possible:
Compare quotes from multiple companies: This advice is standard not only for car shipping but for every service-based business. The goal is to explore your options so you can select the most affordable rate that will meet your budget and expectations.
Understand that the shipment's final price depends on several factors, including the distance of shipping, the time of year, type of car, etc. To compare, shipping a Ford F-150, which is the best-selling truck in the world, will cost around $100 – $200 (more than hauling a car). That's because vehicle dimensions and weight are taken into consideration when pricing.
Ask for their credentials. A licensed vehicle transporter should be able to provide you a valid motor carrier number (MC#) issued by the FMCSA and a USDOT number.
Read the reviews: Testimonials serve as the backbone of a service-based business's reputation. Be sure to read other people's reviews. Doing so can help you dodge a bullet if you know someone who has had a messy experience with your potential company.
Observe their customer service: The employees' actions should tell a lot about a company. Look for an auto transport company with knowledgeable, polite, friendly, and transparent personnel who are patient in answering your questions.
Moreover, avoid a shipping company that:
Vaguely discusses insurance coverage. Just because your car isn't brand new or high-end, it doesn't mean it should not have adequate insurance. Any responsible auto transport company must be transparent enough to put the minds of their customers at ease. You might as well look for another if yours can't guarantee the safety of your vehicle.
Aggressively sells you unnecessary services. Some companies are always looking to earn extra cash. Even if they know you're only transporting a used car, they try to talk you into paying more with sales angles like additional insurance or other ways to make you believe that your vehicle needs ultimate protection.
Suspiciously offers you low fees. There's a difference between cheap and affordable. It's a general rule of thumb that if something sounds too good to be true, it's most likely a scam.
Wrapping Up Your Auto Transport
Once your car arrives, make sure to inspect it before signing the delivery papers. If you find any problems, don't think twice about contacting the auto transport company to resolve the issue.