Togo's auto market in 2021 rises by 27.2% with 458 sales, reporting positive performance in Q4. Renault reports very impressive growth, gaining 263.2% and getting closer to second place.
Market Trend
Togo's car market this year recovered effectively from the pandemic crash despite reporting a positive performance only in Q4.
In this environment, the local automotive industry still has a marginal rule with most of the market fueled by the import of used vehicles. The new vehicle market is very small, with the all-time record hit in 2015 when sales reached 708 units. In 2018, registrations marginally improved from the previous year, ending at 558 (+3%).
However, in 2019 the market was hit by a large drop (-20.4%) with full-year sales at 445.
Due to the COVID-19 Pandemic full-Year sales for 2020 have been 360, reporting a decline of 19.1% compared to 2019.
In 2021 the year started quite negatively for the Togo market, in fact, in Q1 111 units have been sold, reporting a 13.3% decrease in sales compared to Q1 2020, while in Q2 111 units sold were sold as well.
In Q3 sales dropped again 8.9% with 113 units sold, followed by a 13.9% increase in sales with 123 units sold.
Indeed, Full-Year sales for 2021 have been 458, reporting a 27.2% increase compared to 2020.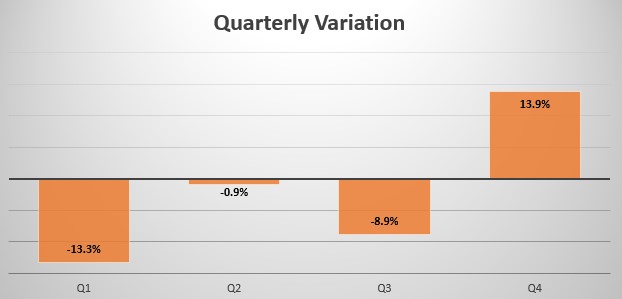 Brand-wise, this year the leader Toyota (+26.6%) lost 0.1% market share, followed by Hyundai, which gained 5.4%, losing 3.5% share. Renault (+263.2%) was in the third position and gained 9.8% market share.
The most sold model in the country remains the Toyota Hilux with 42 sales, holding 9.2% market share.