Trinidad and Tobago's Auto market in 2021 gains 14.2% with 11,560 sales, reporting a double-digit drop in Q1 and Q4. Hyundai reports the worst performance on the leaderboard, gaining only 8.3%.
Market Trend
Trinidad and Tobago's car market this year grew effectively despite dropping in double-digits in the Q1 and Q4.
It is one of the largest markets in the Caribbean with recent years characterized by a sequel of new all-time records, ended in 2016 with a record of 18,204. However, in 2017, the momentum was suddenly broken and the market fell down above any expectations, falling at the lowest level in this decade, at 13,500 units, down 25.8% from the previous year.
In 2018, the market kept declining. Indeed, the year ended with sales at 13,200, down 2.2% from the previous year.
In 2019, the market reports robust improvement from last year. Indeed, full-year sales have been 14,670, up 11.1%.
Due to the COVID-19 Pandemic full-Year sales for 2020 have been 10,122, reporting a 31% decrease compared to 2019.
In 2021 the year started negatively for the Trinidad & Tobago market, in fact, in Q1 3,120 units have been sold, reporting a 11.7% decrease in sales compared to Q1 2020, but in Q2 sales started growing quickly, reporting a 56.5% increase in sales with 3,018 units due to the incredibly low volumes in Q2 2020.
In Q3 sales kept rising 56.4% with 3,117 units sold, but the market quickly came down in Q4 with just 2,305 units sold (-13.5%).
Indeed, Full-Year sales for 2021 have been 11,560, reporting a 14.2% increase compared to 2020.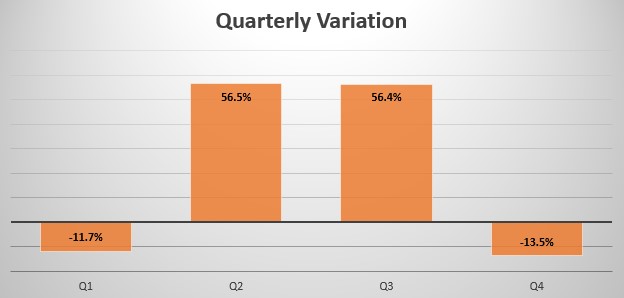 Brand-wise, this year the leader Toyota (+17.4%) gained 0.5% market share, followed by Nissan (+16.6%), which gained 0.4% share. Hyundai (+8.3%) was in the third position and lost 0.9% market share.
The most sold model in the country remains the Toyota Hilux with 923 sales (+20.3%), holding 8% market share.