USA's car market in 2021 rises by 2% with 14.95 million sales, reporting a very strong first half, followed by a double-digit fall in the second part of the year. Toyota conquers the market throne, overtaking Ford.
Market Trend
The USA car market this year attempted to recover from the pandemic crash of 2020 and reported a very promising performance in the first half, followed by another double-digit fall.
Following the sharp 2008 crisis which created a collapse to the US vehicles market, with Chrysler group saved by the merge with Fiat and General Moors rescue by the government credit, in 2011 the market has taken a long recovery way and grew up from 10.5 million (2010) to the all-time new record, hit in 2016 with 17.5 million.
However, the change in the White House guest and the new protectionist policy, with initial economic boom due to the sharp tax cut, did not benefit the sector and in the last three years, the market has moderately lost, down to 17.23 million in 2017, at 17.34 million in 2018 while ending 2019 at 17.02 units sold.
Due to the COVID-19 pandemic sales fell in  2020. In fact, sales have been 14,665,787, reporting a decline of 13.8% compared to 2019.
In 2021 the year started positively for the USA market, in fact, in Q1 3.97 million units have been sold, reporting a 13.2%, followed by an impressive 46.9% increase in sales in Q2 with 4,35 million units due to the incredibly low volumes in Q2 2020.
In Q3 sales started falling in double-digits again, losing 15.7% with 3.38 million units, and this negative trend was maintained in Q4 with 3.26 million sales (-22.2%).
Indeed, Full-Year sales for 2021 have been 14.95 million, reporting a 2% increase compared to 2019.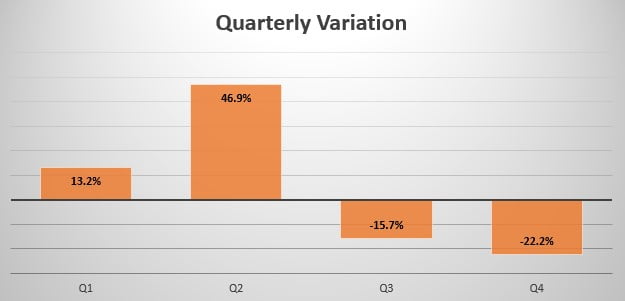 Brand-wise, this year the new leader Toyota (-+3.8%) gained 0.2% market share, overtaking Ford (-6.4%), which lost 1.1% share, while Chevrolet lost 2% share, falling 15.1% reporting the worst performance on the leaderboard.  Honda (+9.1%) remained in 4th place, followed by Nissan which gained 9.7%.
Jeep lost 3.3% sales, followed by Hyundai which reported the best performance by rising 17.2% and Kia which rose 2 spots and gained 15.6% sales. Closing the leaderboard we have Ram -down 2 spots- gaining 3.6% this year and finally Subaru -down 1 spot-, losing 2.2%.
The most sold vehicle this year remains the Ford F-series (-7.7%) with 726,003 units sold, followed by the Ram Pickup -up 1 spot-, which gained 4.3% registering 569,389 new sales this year. The Chevrolet Silverado (-8.4%) -down 1 spot- closes the podium and reports 529,765 new units sold.
Tables with sales figures
In the tables below we report sales for all Brands, top 10 Manufacturers Groups, and top 10 Models.