Vietnam's vehicle market in 2021 falls 0.4% with 383,259 sales, reporting a very strong first half, followed by a double-digit fall in the second part of the year. VinFast reports the best performance, rising 54.4%.
Market Trend
The Vietnamese car market this year attempted to recover from the pandemic crash of 2020 and reported a very promising performance in the first half, followed by another double-digit fall.
The market has scored an impressive series of all-time records ending 2016 with more than double compared to 2012. However, in 2017 the market scored the first break after years, down 12.6%.
In 2018, the market started immediately to recover, signing an 11.1% growth, while in 2019 it kept surging by 14.3%.
Sales in 2020 have grown by 8% despite the COVID-19 pandemic. In fact, 384,934 units have been sold.
In 2021 the year started positively for the Vietnamese market, in fact, in Q1 88,950 units have been sold, reporting a 40% increase in sales compared to Q1 2020, and in Q2 sales kept growing in double-digits, reporting a 39.1% increase in sales with 96,373 units due to the very low volumes in Q2 2020.
In Q3 sales started dropping quickly, losing 43.9% with 54,372 units, and in Q4 sales kept falling 7.5% with 143,564 units.
Indeed, Full-Year sales for 2021 have been 383,259, reporting a 0.4% decrease compared to 2020.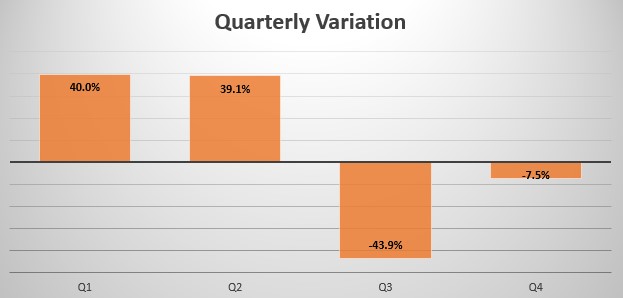 Brand-wise, this year the leader Hyundai (-8.8%) lost 1.7% market share, followed by Toyota (-4.5%), which lost 0.7% share. Kia on the other hand gained 1.7% share and rose 16.2%.  VinFast reached 4th place and reported the best performance by gaining 54.4%, followed by Mazda -down 1 spot- which lost 15.3% reporting the worst performance.
Mitsubishi -down 1 spot- lost 5.9%, followed by Ford (-3.9%) and Thaco -down 2 spots- losing 6%. Closing the leaderboard we have Honda losing 11.1% and Suzuki which lost 5.4%.
The most sold vehicle this year is the Vinfast Fadil (+70.2%) with 23,147 units sold, followed by the Hyundai Accent, which lost 3.9% registering 19,956 new sales this year. The Toyota Vios (-33.3%) closes the podium and reports 19,934 new units sold.
Tables with sales figures
In the tables below we report sales for all Brands, top 10 Manufacturers Group and top 10 Models.