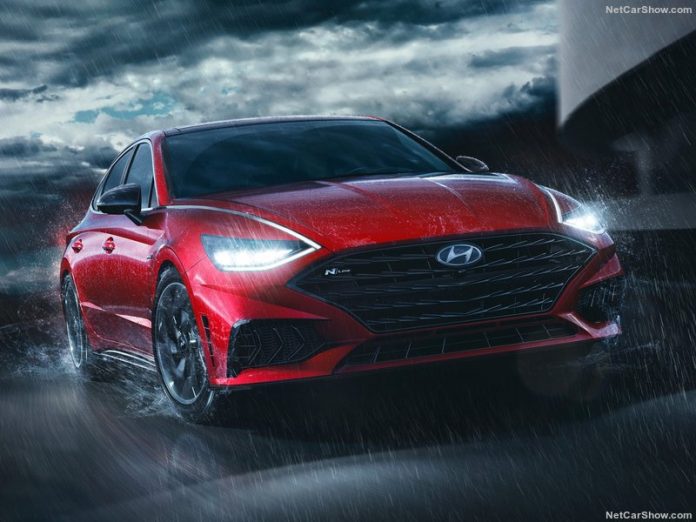 The Hyundai Sonata is in the same realm as the Honda Accord, Chevrolet Malibu, and the Toyota Camry and is proving to be a worthy competitor. Customers have been impressed with how the 2021 model includes a 2.5-liter engine that's turbocharged and provides 290 horsepower.
This car also gives you 311 lb-ft of torque, along with upgrades to the suspension and chassis to support the available power. 
If you were interested to buy a Hyundai Sonata, you may be pleased to find that there's a 100,000 mile and 10-year warranty for the powertrain. Let's take a closer look into what this car has to offer so that you can decide whether it's the right car for you. 
Features & Models
There are four options available when it comes to buying the 2021 Hyundai Sonata. These options include Limited SEL PLus, SEL, and SE.
SE Model 
The SE model is available for $23,600 and comes with a wide range of great features that include the following:
Tailights

LED headlights 

Electronic parking brakes

Auto headlight sensors 

Keyless feature

Tilt & telescopic steering

Bluetooth 

8" touchscreen display

USB connection

Compatibility with Android & Apple devices 

High-quality audio system
In addition to this, the Smartsense safety suit is included which provides you with some fantastic safety features. These include auto high beam headlights, forward-collision prevention, and adaptive cruise control. These are features that can make the driving experience more enjoyable and effortless. 
SEL Model 
The SEL model is available for $25,700 and comes with the following features:
Twin tip muffler

Safe exit warning system 

17" alloy wheels

Smart trunk 

Lumbar support included with the seats

Front seats can be heated

Armrest in the rear seats

Automatic climate control feature 

Blue Link car system 

Rear cross-traffic alerts 
There are different options available with the SEL model that include varying features. These options include the following:
Convenience
The convenience package includes Hyundai Digital Key which lets you use your smartphone as a key. 

Includes a 12.3" LCD display that works as an instrument cluster.

Steering wheel wrapped in leather materials 

Wireless phone charging 

Rearview mirror with auto-dimming features 
Premium 
Panoramic sunroof 

Bose audio system 

Highway drive assist

Bose audio system 

Heated steering wheel

Leather seats

Interior LED lights 

10.25" touchscreen display with navigation features
SEL Plus 
You can purchase the SEL Plus for $28,200 and it's available in two packages that come with the following features: 
Convenience 
Leather seats

Faux suede inserts 

18" alloy wheels

Paddle shifters
Tech
Highway drive assist

Panoramic sunroof

Bose audio system

10.25" touchscreen display 
N Line
The N Line in Hyundai's Sonata range comes with a 4-cylinder, 2.5-liter engine that has been turbocharged. This provides you with plenty of speed to have fun driving with. In addition to this, there's an 8-speed automatic clutch system that allows you to have more control over the speed of the car. It's available for $33,200.
Limited
Hyundai's Limited Sonata model is available for $33,850 and comes with a range of features that include the following:
Ventilation system available in the front seats

LED headlights

Rear & front parking sensors

Automatic wipers

Blindspot monitor available to view

Rear parking collision prevention system

Remote smart parking assist 
Fuel Economy 
The SEL and SE models include a 2.5-liter engine that provides 191 horsepower. The Limited and SEL Plus models come with 1.6-liter engines that provide 180 horsepower. A 2.5 liter 4 cylinder turbocharged engine is included with the 
All of the models in this line are front-wheel drive and include an automatic transmission system that has 8 speeds. 
With all of this power available, it can make some customers shy away from the car due to the worry of fuel efficiency. However, the fuel ratings for each model are better than some people were expecting.
SE Model
The SE line has a 38mpg rating for long-distance driving, 28mpg for city driving, and a combined mpg of 32. 
SEL Model
The SEL model is on the heavier side and therefore has slightly lower fuel efficiency ratings. You can get 37 mpg when driving long-distance, 27 mpg in city driving, and a combined mpg of 31.
Limited & SEL Plus Model
Both the limited and SEL Plus models have 36 mpg for long-distance driving, 27 mpg for city driving, and a total of 31mpg for combined driving. 
N Line
Hyundai's Line comes with 23 mpg for city driving, 33 mpg for long-distance driving, and a combined mpg rating of 27.
Interior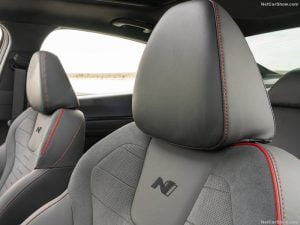 People have been impressed with how roomy the interior of the Hyundai Sonata is. The dash isn't cluttered which provides the interior of the car with a sleek and modern feel. However, you're still provided with ample controls, such as volume and climate control knobs. 
There's also the touchscreen display that has been fitted within the dashboard, rather than being placed on top. 
When it comes to how loud the wind and road are from within the car, we were impressed to find that the Sonata handled it pretty well. It keeps the car rides more relaxing by minimizing road and wind noise from outside. 
Handling
Customers have been liking how the steering provides them with quick and responsive feedback to help them turn and take corners more comfortably. The speed ratings are good enough for most people when it comes to overtaking. 
Utilizing the sport mode that's included will provide you with a quicker response when pressing the accelerator which can be handy for quick overtaking and city driving. 
Downsides
There are a few key downsides to the Hyundai Sonata. One of them is that there's no all-wheel-drive feature available. Instead, these cars are only available with front-wheel drive. 
There's also no blind-spot system available with the standard versions of this car. That's something that only comes with specific packages which is disappointing for some
Lastly, there's no knob for tuning or changing the radio station. This can cause some confusion and the lack of a dial makes tuning your radio more complicated.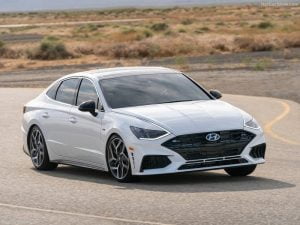 Conclusion
That wraps up our post on what you need to know about the 2021 Hyundai Sonata. There are some excellent upsides to the car and various options that let you pick the one that comes with the features that are right for you.
Hopefully, this post has helped you feel more confident about whether this is the right car for your needs.