Dominican Republic's auto market in 2021 rises by 35.5% with 18,043 sales, reporting positive performance in all quarters except Q4. The top 3 brands hold over 53% market share, and grow effectively.
Market Trend
Dominican Republic's car market this year recovered effectively from the pandemic crash despite reporting a positive performance in all quarters except for Q4.
The new vehicle market had reported a strong increase in 2016 when the new all-time record was established at 24,396 units. In 2017 sales declined back at 21,425 units (-16%) and were more in line with the average volume in this decade. In 2018, registrations reported a shy recovery. Indeed, the year ended with sales at 21,300, up just 1.3%.
However, in 2019 the market went back on a negative track. Indeed, Year to Date November sales have been 19,288, projecting the full year to 20,996, down 1.5%.
Due to the COVID-19 Pandemic full-Year sales for 2020 have been 13,318, reporting a 36.6% decrease in sales compared to 2019.
In 2021 the year started very positively for the Dominican Republic market, in fact, in Q1 4,773 units have been sold, reporting a 12.8% increase in sales compared to Q1 2020, while in Q2 sales started growing quickly, reporting a 598.5% increase in sales with 4,785 units due to the incredibly low volumes in Q2 2020.
In Q3 sales grew 35.3% with 4,654 units sold, while in Q4 sales declined by 22.8% with just 3,831 units.
Indeed, Full-Year sales for 2021 have been 18,043, reporting a 12.8% increase compared to 2020.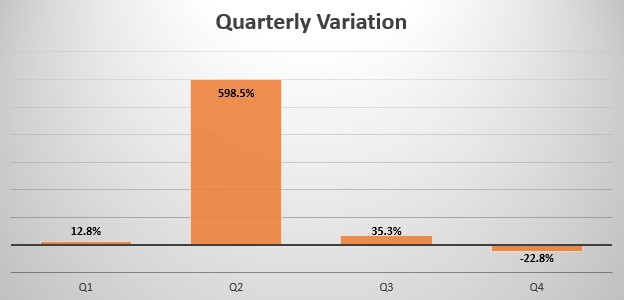 Brand-wise, this year the leader Hyundai (+50.2%) gained 0.2% market share, followed by Toyota (+52.3%), which gained 0.1% share. Kia (+51.9%) was in the third position.
The most sold model in the country is the Kia Sportage with 2,633 sales (+52.1%), holding 14.6% market share.