Dutch auto market in 2020 falls by 20.6% as the pandemic and lockdowns affect sales. Full-Year sales have been 357.414, while Kia shines by entering the podium and jumping 6 spots (+1.9% share).
Market Trend
The Dutch car market fell significantly in 2020 as the global pandemic has impacted sales. Only 2 months have been positive the past year and by very small margins.
Dutch vehicles market in recent years has been influenced by a series of incentives introduced to support the fast development of the Alternative Vehicles Fuel (AVF) which has been an unusual short-term view boosting the market when applied and depressing the market when ended.
Consequently, the annual sales trend was full of rapid growth and fast decline. Looking at the period 2010-2018, the market has lost near 30.000 units, from 477.000 (2010) to 441.000 (2018) with a negative peak of 385.000 in 2016 and a positive peak of 555.000 in 2011. In 2019, the market registered a flat trend, with 450.277 units sold.
After starting the year with a slight negative trend (-7.1%), the market quickly collapsed in March as the virus struck. The sharpest drop in sales this year was in May when sales declined by 59.5% as the entire country was put in a complete lockdown the last week of March, following the decision taken by Germany. The second half of the year remained mostly negative with August and September registering double-digit losses.
Indeed, Full-Year sales for 2020 have been 357.414, reporting a decline of 20.6% compared to 2019.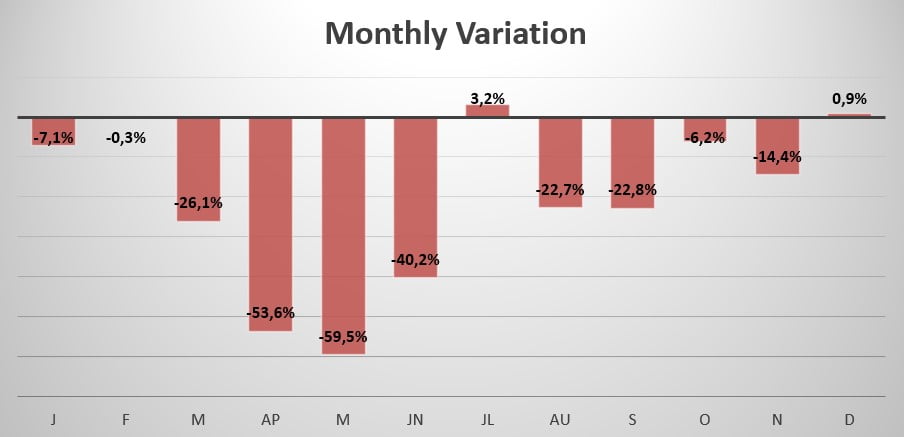 Brand-wise, the leader Volkswagen (-5.8%) gained 1.9% market share, followed by the growing Kia (+6.1%), which jumped 6 spots and gained 1.9% share as well, and by Peugeot -up 1 spot- which gained 0.2% share, falling 18.2%. Toyota (+15.8%) reached 4th place by jumping 1 spot, followed by Opel which on the other hand registered the worst performance, falling 36.8% and losing 3 spots.
Renault lost 22.3%, followed by Ford (-23.3%) and BMW which gained 1 spot and lost 18.7% sales. Closing the leaderboard we have Skoda -up 2 spots- losing 11.1% this year and Volvo entering the leaderboard by jumping 3 spots, falling only 0.9% this year.
The most sold vehicle this year is the Kia Niro (+28.7%), jumping 4 spots with 11.886 units sold, followed by the new Volkswagen ID.3, which sold 10.965 units this year. The Hyundai Koda (+51.2%) closes the podium by jumping 9 spots and reports 10.823 new units sold.
Tables with sales figures
In the tables below we report sales for all Brands, top 10 Manufacturers Group and top 10 Models