Iran's Vehicle market in 2021 gains only 0.2% with 907,607 sales, reporting a negative performance all year except for Q2. Renault reports the best performance on the leaderboard, gaining 32.2% sales, while Haima drops in 9th place.
Market Trend
Iran's car market this year remained flat, and reported growth only in Q2.
Following the recovery reported between 2014 and 2017, when sales doubled at 1.3 million annual units since 2018 the market approached a new declining pathway.
According to data released by the Iranian National Bureau of Statistics, in 2018 light vehicle sales (local production plus import) were 1,194,505 , with a drop of 23.1%, and the trend further deteriorated in 2019, when all imports stopped.
In 2019 the market registered a huge sales drop. Indeed, the market fell, registering 750,867 units, down 37.1%.
Sales in 2020 have grown by 8.7% despite the COVID-19 pandemic. In fact, 816,497 units have been sold.
In 2021 the year started slightly negatively for the Iranian market, in fact, in Q1 236,061 units have been sold, reporting a 2% decrease in sales compared to Q1 2020, while in Q2 sales started growing, reporting a 14.5% increase in sales with 204,900 units sold due to the lower sales volume registered in Q2 2020.
In Q3 sales dropped again, losing 1.1% with 234,604 units sold, and in Q4 fell further down, losing 6.6% with 232,042 registrations.
Indeed, Full-Year sales for 2021 have been 907,607, just a 0.2% increase compared to 2020.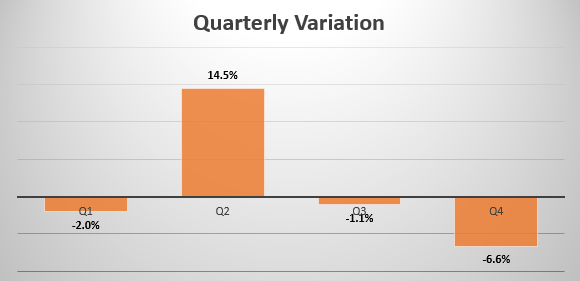 Brand-wise, this year the leader Peugeot (+24%) gained 7.7% market share, followed by Saipa (-10.8%), which lost 4.3% share. Iran Khodro lost 4.4% share, reporting a loss of 26.1%.  Renault remained in 4th place and reported the best performance on the leaderboard (+32.2%), followed by Zamyad which lost 45.2%.
Dongfeng -up 3 spots- gained 24.9%, followed by Brilliance (-22%) and ChangAn which lost 23.5%. Closing the leaderboard we have Haima -losing 3 spots- down 56.6% this year and Kia which lost 39.1%.
The most sold vehicle this year has been the Saipa Pride/100-Series, which held 19.9% share despite losing 22.8% sales.