Ivory Coast's auto market in 2021 rises by 8% with 11,491 sales, reporting a  positive first half, followed by a double-digits drop for the rest of the year. Renault reports very impressive growth, gaining 30.2% and getting closer to second place.
 Market Trend
Ivory coast's car market this year attempted to recover from the pandemic crash of 2020 and reported a promising performance in the first half, followed by another double-digit fall.
 Light vehicles market development was steady in recent years and volume grew up from 7,500 in 2012 to 9,637 in 2018.
In 2019, the market (cars+ LCV) registered another double-digit growth. Indeed, the Full-year ended at 11,597, surging 15.9%.
Due to the COVID-19 Pandemic full-Year sales for 2020 have been 10,643 , reporting a decline of 8.2% compared to 2019.
In 2021 the year started slightly positively for the Ivory Coast market, in fact, in Q1 2,850 units have been sold, reporting an 2.5% increase in sales compared to Q1 2020, and in Q2 sales started growing quickly, reporting a 74.2% increase in sales with 4,703 units sold due to the low sales volume registered in Q2 2020.
In Q3 sales started dropping again significantly (-26.8%) with 1,892 units sold, and in Q4 sales remained down 20.6% with 2,046 units.
Indeed, Full-Year sales for 2021 have been 11,491, reporting a 8% increase compared to 2020.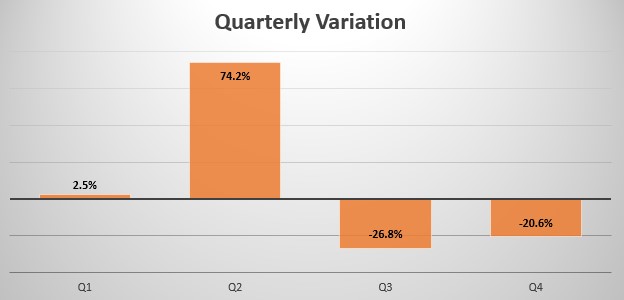 Brand-wise, this year the leader Toyota (-9.9%) lost 3.2% market share, followed by Suzuki (-2.6%), which lost 1.3% share. Renault (+30.2%) was in the third position and gained 1.9% market share.
The most sold model in the country remains the Toyota Hilux with 1,126 sales, holding 10.1% market share.