Jamaica's auto market in 2021 rises by 2.2% with 7,768 sales, reporting positive performance in Q2 and Q3. Leader Toyota keeps over 30% share despite its underperformance.
Market Trend
Jamaica's car market this year kept growing slowly, and reported a positive performance in Q2 and Q3.
The market has been quite stable between 5,000 – 6,000 annual sales. After hitting the best in 2015, with 6,576 units, the trend embarked on a negative path, and in 2017 the market fell down for the second year in a row, at 5,376 units, down 5.7% from the previous year.
In 2019 the market performed very well, ending the year with sales at 7,176.
Despite the COVID-19 Pandemic full-Year sales for 2020 have been 7,601, reporting a 5.9% increase compared to 2019.
In 2021 the year started slightly negatively for the Jamaican market, in fact, in Q1 1,942 units have been sold, reporting a 2.1% decrease in sales compared to Q1 2020, while in Q2 sales started growing again, reporting a 9.1% increase in sales.
In Q3 sales kept growing (+3.1%), followed by a 0.7% decrease in sales in Q4.
Indeed, Full-Year sales for 2021 have been 7,768, reporting a 2.2% increase compared to 2020.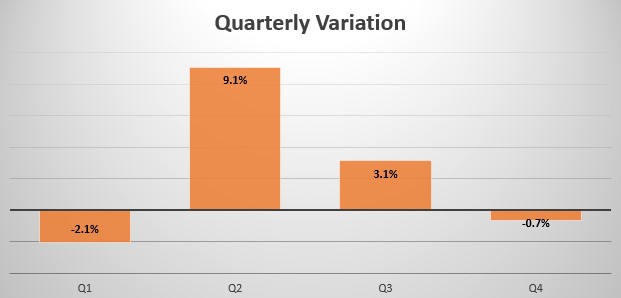 Brand-wise, this year the leader Toyota (+5.1%) lost 1.3% market share, followed by Kia (+1.8%) which lost 0.1% share. Volkswagen (-3.7%) was in the third position and lost 0.6% market share.