Omani auto market in 2020 falls by 31.3% as the pandemic and the fall in oil prices affect sales. Full-Year sales have been 74.600. MG shines (+111.9%) while Hyundai and Mazda lose over half their sales.
Market Trend
The Omani car market has been hit in 2020 by the world-wide COVID-19 pandemic and by the fall of oil price in the international markets, which have impacted sales significantly.
After starting the year very positively (+18.4% in January and +27.9% in February), the market quickly collapsed in March as the virus struck, followed by the quick fall of the oil price. The sharpest drop in sales this year was in April when sales declined by 77.5%. The market did not recover very effectively for the rest of the year, in fact, all the following months reported double-digit sales drops. 
Indeed, Full-Year sales for 2020 have been 74.600, reporting a decline of 31.3% compared to 2019.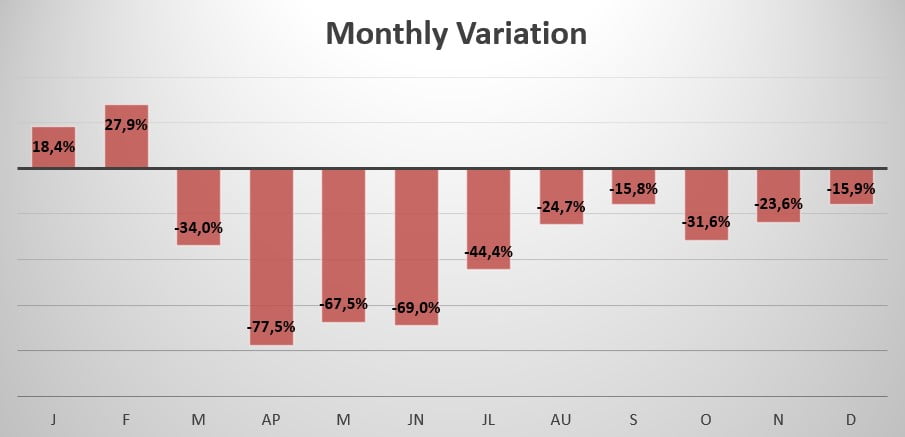 Brand-wise, this year the leader Toyota (-42.7%) gained 7.3% market share, reaching over 50% of all vehicles sold in the country. In second place we have Nissan (-1.2%), which gained 7.9% share, followed by Lexus -up 1 spot- which lost 0.7% share, falling 423%.  Kia –up 1 spot- reached 4th place and lost 27.2%, followed by Hyundai which fell 2 spots by reporting the worst performance in the leaderboard (-56.2%).
Isuzu remained in 6th place and lost 7.1%, followed by MG (+111.9%) -up 8 spots-  which reported the best performance in the leaderboard, and Mitsubishi -down 1 spot- which lost 31.9% sales. Closing the leaderboard we have Mazda -down 1 spot- losing 50.2% this year and Jeep -up 2 spots- in last place losing 13.3%.
The most sold vehicle this year is the Nissan Sunny (+35.2%) with 9.354 units sold, overtaking the Toyota Land Cruiser P/U (-13%) registering 7.623 new sales this year. The Toyota Hilux (-41.3%) closes the podium and reports 7.278 new units sold.
Tables with sales figures
In the tables below we report sales for top 10 Brands and top 10 models.