Russian auto market in 2020 falls by 9.5% as the pandemic and lockdowns affect sales. Full-Year sales have been 1.6 Million. Skoda reports the best performance in the leaderboard by growing 6.8%, while Lada remains the undiscussed leader.
Market Trend
The Russian car market has been hit in 2020 by the world-wide COVID-19 pandemic, which has impacted sales significantly.
Russian automotive industry grew up at an all-time record of 2.92 million units in 2013, and it was among the top 10 in the World.
However, the market was severely hit by Crimea-related sanctions and since 2014 dropped down losing over half of the volume in only three years landing at 1.42 million units in 2016 when the fall ended, to start a progressive recovery.
The new more positive trend, however, was shy and the market closed in 2018 with 1.8 million units while in 2019 the market pushed the brakes, ending at 1.76 million units (-2.4%).
After starting the year with a slightly positive trend (+3.1% in February and +3.8% in March), the market quickly collapsed in April as the virus struck and sales declined by 71.5%, the worst month of the year. the market recovered and started to grow again in July (+2.1%). In fact, the second half of the year has been mostly positive, with only October (-13.4%) reporting negative sales.
Indeed, Full-Year sales for 2020 have been 1.598.825, reporting a decline of 9.5% compared to 2019.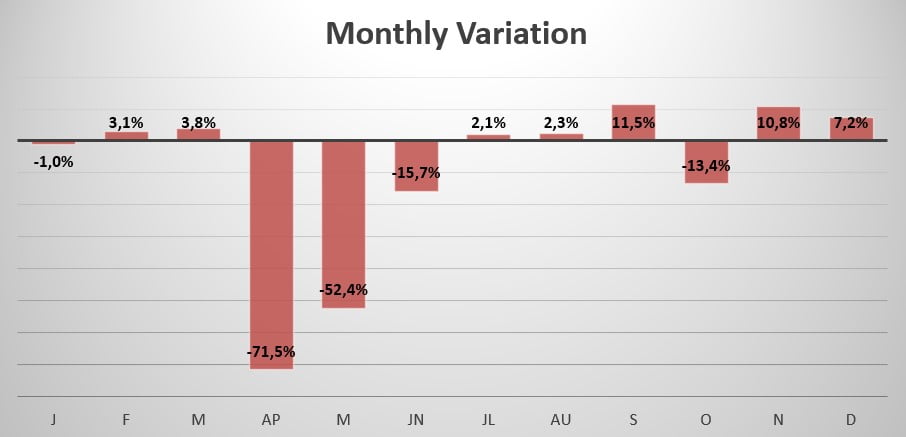 Brand-wise, this year the leader Lada (-5.2%) gained 0.9% market share, followed by Kia (-10.7%), which lost 0.2% share. Hyundai did not lose share but fell 8.8%.  Renault (–11.4%) remained in 4th place, followed by Volkswagen which lost 5.5%.
Skoda reached 6th place and reported the best performance in the leaderboard by gaining 6.8%, followed by Toyota (-11.6%) -down 1 spot- and Nissan which lost 13.3% sales. Closing the leaderboard we have Gaz reporting the worst performance by losing 19.9% this year and BMW entering the leaderboard by jumping 1 spot, gaining 2.9%.
The most sold vehicle this year remains the Lada Granta (-7.2%) with 126.112 units sold, followed by the Lada Vesta, which lost 3.7% registering 107.281 new sales this year. The Kia Rio (-4.8%) closes the podium and reports 88.064 new units sold.
Tables with sales figures
In the tables below we report sales for all Brands, top 10 Manufacturers Group and top 10 Models.