USA auto market in 2020 falls by 13.8% as the pandemic and lockdowns affect sales. Full-Year sales have been 14.67 Million, the lowest annual volume since 2012. All brands in the leaderboard fall in double-digits except Kia (-4.8%).
Market Trend
The US auto market was hit harshly in 2020 as the global pandemic has impacted sales tremendously. In fact, the fall was so harsh that we recorded the lowest annual volume for the country since 2012.
Following the sharp 2008 crisis which created a collapse to the US vehicles market, with Chrysler group saved by the merge with Fiat and General Moors rescue by the government credit, in 2011 the market has taken a long recovery way and grew up from 10.5 million (2010) to the all-time new record, hit in 2016 with 17.5 million.
However, the change in the White House guest and the new protectionist policy, with initial economic boom due to the sharp tax cut, did not benefit the sector and in the last three years, the market has moderately lost, down to 17.23 million in 2017, at 17.34 million in 2018 while ending 2019 at 17.02 units sold.
After starting the year with a positive trend (+5.4% in January and +14.4% in February), the market quickly collapsed in March as the virus struck. The sharpest drop in sales this year was in April when sales declined by 57.4%. In the following months, the market attempted a recovery but maintained mostly a double-digit drop trend until September (+6.9%) and October (+4.6%).
Indeed, Full-Year sales for 2020 have been 14.665.787, reporting a decline of 13.8% compared to 2019.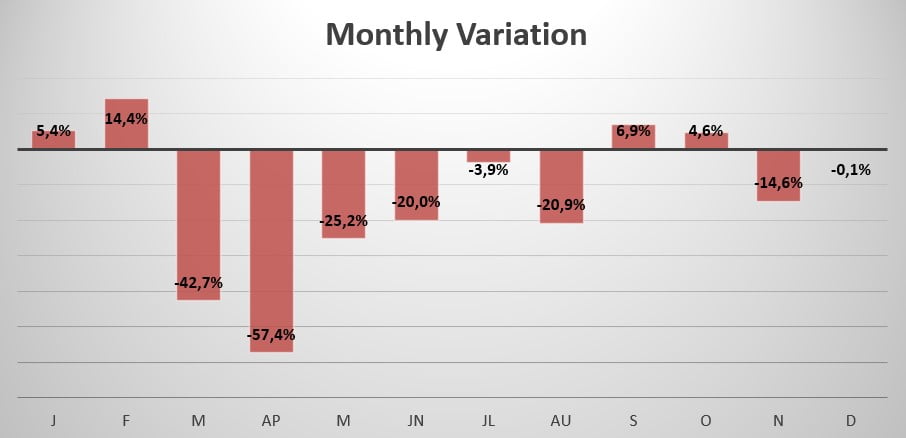 Brand-wise, this year the leader Ford (-15.9%) lost 0.3% market share, followed by  Toyota (-11.9%), which gained 0.3% share, while Chevrolet gained 0.3% share, falling 11.7%.  Honda (-17.3%) remained in 4th place, followed by Nissan which lost 31.8%, reporting the worst performance in the leaderboard.
Jeep lost 13.9% sales, followed by RAM (-11.1%) and Hyundai which jumped 1 spot and lost 10% sales. Closing the leaderboard we have Subaru -down 1 spot- losing 12.6% this year and finally Kia reporting the top 10 hold in the leaderboard, losing only 4.8%.
The most sold vehicle this year remains the Ford F-series (-12.3%) with 786.250 units sold, followed by the Chevrolet Silverado -up 1 spot-, which gained 0.5% registering 578.615 new sales this year. The RAM Pick-Up (-13.8%) -down 1 spot- closes the podium and reports 545.955 new units sold.
Tables with sales figures
In the tables below we report sales for all Brands, top 10 Groups and top 10 Models.