Rwanda's auto market in 2021 rises by 7.4% with 714 sales, reporting a  positive performance only in Q2. Volkswagen reports the worst performance on the leaderboard, while Toyota holds 52.1% share.
 Market Trend
Rwanda's car market this year reported an increase in sales despite dropping in all quarters except for Q2.
Rwanda vehicles market in recent years has been characterized by an unstable trend, with registrations fluctuating between 500 and 780 units. After the large loss reported in 2016 – when sales fell at 522 – the market immediately recovered, reaching a peak of 780 units sold in 2017. In 2018, sales have been flat, ending at 775.
In 2019, the market was hit by another marginal decline. Indeed, Total sales have been 758, down 2.1% from the previous year.
Due to the COVID-19 Pandemic full-Year sales for 2020 have been 665, reporting a decline of 12.2% compared to 2019.
In 2021 the year started negatively for the Rwandan market, in fact, in Q1 160 units have been sold, reporting a 18.4% decrease in sales compared to Q1 2020, while in Q2 sales started growing rapidly, reporting a 156.8% increase in sales with 190 units sold.
In Q3 sales dropped 4.9% again with 193 units sold, followed by a 10.9% drop in sales in Q4 with 171 units sold.
Indeed, Full-Year sales for 2021 have been 714, reporting a 7.4% increase compared to 2020.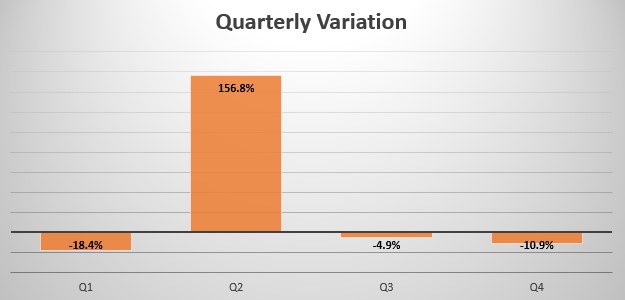 Brand-wise, this year the leader Toyota (+20.6%) gained 6.8% market share, followed by Volkswagen, which on the other hand fell 44.8%, and lost 6.2% share. Mitsubishi (+21.1%) was in the third position and gained 0.9% market share.
The most sold model in the country remains the Toyota Hilux with 274 sales (+53.1%), holding 38.4% market share.