Serbia's car market in 2021 rises by 16.4% with 30,554 sales, gaining only in Q2 and Q3. Dacia is the only brand to report a drop in sales, falling 26.2%.
Market Trend
The Serbian car market this year attempted to recover from the pandemic crash of 2020 and reported a positive performance only in Q2 and Q3, nevertheless YoY sales are positive.
The market in recent years has been recovering after the huge fall reported in the 2009-2014 crisis. Light vehicle sales grew up from 19,698 in 2014 to 29,010 in 2017. In 2018, the market kept growing, ending with 29,721 sales (+2.4%). In 2019, the market signed the 5th consecutive year of gain by selling 34,197 units, surging 15.1% from the previous year. 
Due to the COVID-19 Pandemic full-Year sales for 2020 have been 26,241, reporting a decline of 23.3% compared to 2019.
In 2021 the year started positively for the Serbia car market, in fact, in Q1 6,243 units have been sold, reporting an 13.5% decrease in sales compared to Q1 2020, while in Q2 growth accelerated, reporting a 151.2% increase in sales with 9,322 units due to the incredibly low sales volume registered in Q2 2020.
In Q3 sales rose 4.4% with 7,720 units sold, while in Q4 sales fell 8.1% with 7,269 units sold.
Indeed, Full-Year sales for 2021 have been 30,554, reporting a 16.4% increase compared to 2020.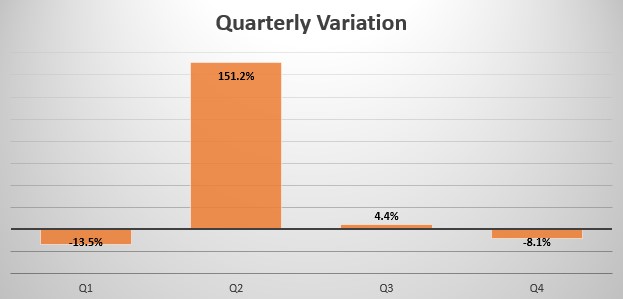 Brand-wise, this year the leader Skoda (+47%) gained 4.1% market share, followed by Fiat (+13.8%), which gained 13.8% and lost 0.3% share. Renault lost 0.2% share, rising 14.4%.  Volkswagen remained in 4th place and gained 43.1%, followed by Ford which reported the best performance by gaining 176.6% and rose 11 spots.
Toyota gained 22.6%, followed by Opel (+22.1%) and followed by  Citroen which rose 2 spots and gained 71.7%. Closing the leaderboard we have Hyundai gaining 10.2% and on the other hand Dacia reported the worst performance and dropped 5 spots, losing 26.2%.
Tables with sales figures
In the tables below we report sales for all Brands and top 10 Manufacturers Group.