Turkish auto market in 2020 grows by 58% despite the pandemic. Full-Year sales have been 772.788, with 9 months reporting double-digit sales increase and only 2 months of slight decreases in sales. Citroen enters the leaderboard and grows impressively (+128.4%).
Market Trend
The Turkish car market grew impressively in 2020 despite the pandemic and reported double-digit growth for 9 months.
The automotive industry is one of the largest industrial sectors in Turkey and is the hub for several European and Japanese manufacturers that invested in production facilities to cover the domestic demand while exporting in Europe, the Levant, and North Africa.
In the last decade, the stability of the market has been compromised with strong fluctuations of the Turkish lira which have changed the convenience to export while the domestic market is heavily dependent on the economic trend which suffers from the political structure.
Looking at recent years of domestic market trends, it is easy to see a strong crisis hitting the market periodically. After registering a sharp drop in 2014 – and recovering in the following years – in the second part of 2017 a new crisis approached the market and in 2018 it collapsed by 35.1%, followed by a 21.2% drop in 2019, due to negative economic environment.
After starting the year with an incredibly positive trend (+89.8%), the market slowed down in March (+1.6%) as the virus struck. The sharpest drop in sales this year was in April when sales declined by 14.6%.
The market immediately recovered and reported double-digit growth throughout the entire second half of the year. The biggest growth was registered in July when sales boomed 387.5%. This incredible growth slowed down ending the year growing 15.2% in December.
Indeed, Full-Year sales for 2020 have been 772.788, reporting an increase of 58% compared to 2019.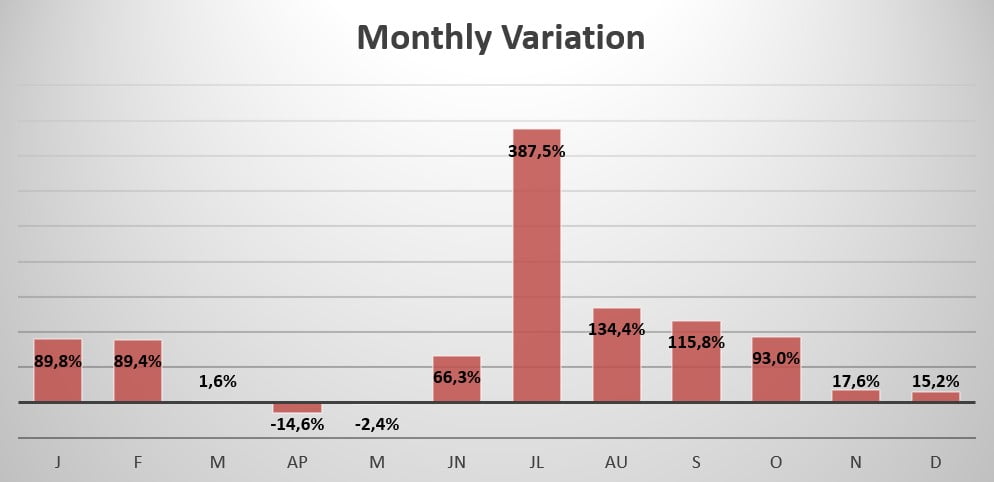 Brand-wise, this year the leader Fiat (+80.1%) gained 2.2% market share, followed by Renault (+56.3%), which lost 0.2% share. Ford -up 1 spot- on the other hand, gained 2.4% share, rising 96.3%.  Volkswagen (+33.6%) fell in 4th place, followed by Peugeot which gained 51.3%.
Toyota gained 66.1%, followed by Opel (+89.9%)-up 4 spots- and Dacia which jumped 2 spots and gained 54% sales. Closing the leaderboard we have Hyundai -down 2 spots- gaining "only" 19.4% this year and registering the worst performance, while Citroen entered the leaderboard by jumping 5 spots, reporting the best performance by gaining 128.4% sales.
The most sold vehicle this year remains the Fiat Egea (+54.9%) with 85.876 units sold, followed by the Renault Clio, which gained 75.6% registering 50.724 new sales this year. The Renault Mégane (+65.2%) closes the podium and reports 38.510 new units sold.
Tables with sales figures
In the tables below we report sales for all Brands, top 10 Manufacturers Group and top 10 Models.