Belarus car market in 2021 loses 11.1% with 47,573 sales, reporting a very sharp drop in Q1, and positive performances in Q2 and Q4. Skoda reports the worst performance, losing 68% sales.
Market Trend
Belarus's car market this year remained down in double-digits to the very negative performance reported in Q1, while performance was positive for Q2 and Q4.
Belarusian automotive industry has been heavily dependent on the Russian auto market in terms of the source of new vehicles both through the official and non-official distribution channels. Following the 2010 crisis when sales fell down to 12.899 units, the market recovered a level between 25,000 and 30,000 between 2013 and 2017.
Improved economic conditions together with the dramatic reduction of the grey market, fueled the new vehicles' official registrations leading to the all-time record in both 2017 and 2018 with 54,549 sold last year. In 2019, the market has further grown despite being in an economic environment below the expectations, closing with 65,099 units, up a robust 23.8%. 
Because of the COVID-19 pandemic sales significantly decreased in  2020. In fact, sales have been 53,535, reporting a fall of 17.8% compared to 2019.
In 2021 the year started very negatively for the Belarus market, in fact, in Q1 9780 units have been sold, reporting a 40.7% decrease in sales compared to Q1 2020, while in Q2 sales started growing again, reporting a 17.1% increase with 12,522 units sold.
In Q3 sales dropped again, losing 14.9% sales with 11,653 units reported, while in Q4 the market recovered (+7.5%) with 13,618 units.
Indeed, Full-Year sales for 2021 have been 47,573, reporting a 11.1% decrease compared to 2020.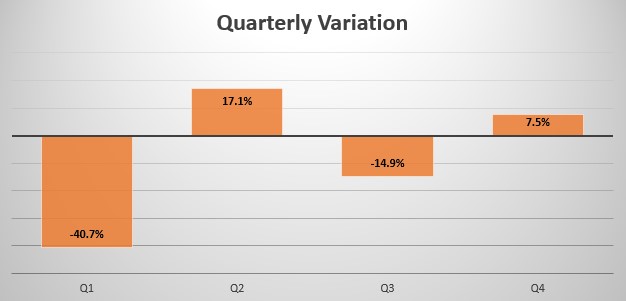 Brand-wise, this year the leader Lada (+12.8%) gained 5.2% market share, followed by Geely (-19.1%), which lost 1.5% share. Volkswagen -up 1 spot- fell 16% losing 0.6%.  Renault fell in 4th place (-39.5%), followed by Kia which gained 4.1%.
Gaz lost 13.6%, followed by Hyundai (-20.3%) -up 1 spot- and Nissan (+83.6%) which reported the best performance on the leaderboard. Closing the leaderboard we have Uaz rising 40.1% this year and Skoda reporting the worst performance (-68%).
The most sold vehicle this year has been the Lada Vesta (+3.7%) with 4,803 units sold, followed by the Volkswagen Polo, which lost 21% registering 3,327 new sales this year. The Kia Rio (+8.4%) closes the podium and reports 3,213 new units sold.
Tables with sales figures
In the tables below we report sales for top 10 Brands and top 10 Models