Colombian vehicles market falls due to the global pandemic affecting sales. Indeed, Full Year 2020 sales have been 188.665, down 28.5% compared to 2019. Ford registers the sharpest drop on the leaderboard, falling 39%.
Market Trend
The Colombian vehicle market has been affected in 2020 by the global COVID-19 pandemic, which impacted sales significantly. 
After a positive period ended in 2014 with a peak of  316.482 units, the vehicle market started a decline with sales dropped down at 245k in 2016. Moreover, in 2017 the market registered the lowest peak in this decade.
Finally, in 2018 the market was able to change direction and to post a positive score, with 256.662 sales, up 7.9%, while in 2019 total sales have been 263.684 (+2.7%).
After starting the year with a double-digit positive trend (+14.2%), the market quickly collapsed in March as the virus struck. The sharpest drop in sales this year was in April when sales declined by 98.9%. In the following months, the market recovered very slowly and remained down in double-digits for the entire year except for November (-6.4%).
Full-Year sales for 2020 have been 188.665, reporting a 28.5% decrease compared to 2019.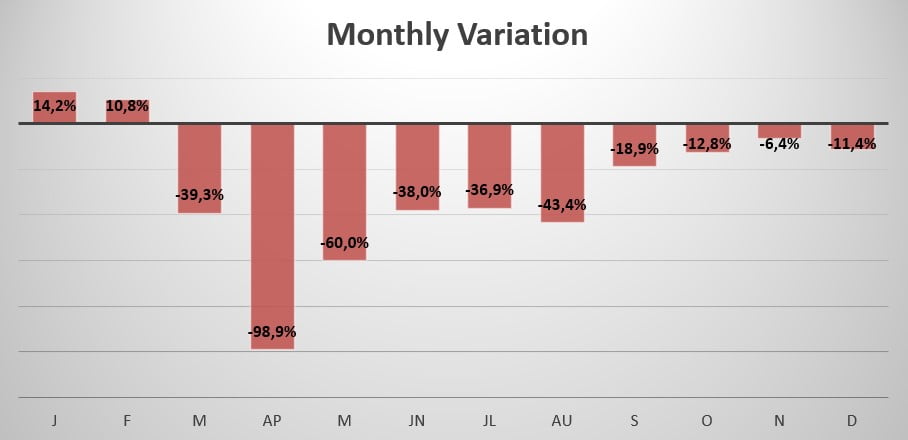 Brand-wise, this year the leader Renault (-30.1%) did not gain any share, followed by Chevrolet (-27.4%), which gained 0.7% share. Mazda on the other hand gained 0.9% share, falling 21.2%.  Nissan lost 34.3%, followed by Kia which lost 37.6%.
Toyota lost 23%, followed by Volkswagen (-32.5%) and Suzuki (up 1 spot) which lost 10.7% sales, registering the top 10 hold. Closing the leaderboard we have Ford -down 1 spot- losing 39% this year and Hyundai losing 33.5%.
The most sold model in the country is the Chevrolet Onix with 8.656 sales (-8.4%), holding 4.6% market share.
Tables with sales figures
In the tables below we report sales for all Brands and top 10 Manufacturer Groups.