France's car market in 2021 rises only 0.5% with 1.66 million sales, reporting a very strong first half, followed by a double-digit fall in the second part of the year. Peugeot becomes the new market leader, losing 5.3%.
Market trend
The French car market this year attempted to recover from the pandemic crash of 2020 and reported a very promising performance in the first half, followed by another double-digit fall.
The market was in a positive momentum since early 2015 and the Macron government's active policy has corroborated the market pushing up consumer confidence and expectations.
Consequently, the car passenger sales level achieved in 2019 was the best in the decade and followed 6 years of consecutive growth, with 2.21 million units sold, up 1.9%.  Sales in 2020 have been heavily influenced by the COVID-19 pandemic, impacting all sectors. In fact, 1,650,197 units have been sold, reporting a decline of 25.5%.
In 2021 the year started positively for the French market, in fact, in Q1 441,793 units have been sold, reporting a 21.1% increase in sales compared to Q1 2020, and in Q2 sales kept growing quickly, reporting a 37% increase in sales with 480,976 units.
In Q3 sales started falling quickly, losing 25.1% with 337,614 units, and kept dropping in Q4 with 398,613 units (-17.6%).
Indeed, Full-Year sales for 2021 have been 1.66 million, reporting a 0.5% increase compared to 2020.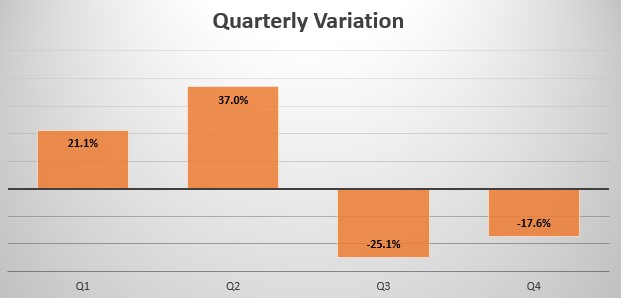 Brand-wise, this year the new leader Peugeot (-5.3%) lost 1.1% market share, overtaking Renault (-14.5%), which lost 2.9% share. Citroen lost 0.1% share, falling just 0.5%.  Dacia reached 4th place and grew 28.9%, overtaking Volkswagen which gained 7.7%.
Toyota gained 7.2%, followed by Mercedes (-3.4%) and Audi which jumped 2 spots and gained 10.4% sales. Closing the leaderboard we have BMW gaining 1.1% this year and Hyundai entering the leaderboard by jumping 4 spots, reporting the best performance by gaining 30.8%.
The most sold vehicle this year has been the Renault Clio (-11.1%) with 85,247 units sold, followed by the Peugeot 208, which lost 17.7% registering 78,881 new sales this year. The Dacia Sandero -up 3 spots- (+44.2%) closes the podium by jumping 3 spots and reports 77,051 new units sold.
Tables with sales figures
In the tables below we report sales for all Brands, top 10 Manufacturers Group and top 10 Models.