India's Auto market in 2021 rises by 26.7% with 3.08 million sales, reporting a very strong first half, falling in double-digits only in Q4. Nissan enters the leaderboard and rises extremely quickly.
Market Trend
The Indian car market this year recovers effectively from the pandemic crash of 2020 and reported a very promising performance in the first half, falling in double-digits only in Q4.
It is currently the 5th largest in the World but it is very close to outpacing Japan to gain the fourth position.
Following five years of continuous vigorous growth, in 2018 the Indian car passenger market hit the last all-time record with 3.38 million sales, despite the introduction of the new National Automotive Plan, in mid-year, blocked the growth. In 2019 the market pushed the brakes, falling down 7.4% and registering 3.11 million units.
Due to the COVID-19 pandemic sales have fallen in  2020. In fact, sales have been 2.47 million, reporting a decline of 16.5% compared to 2019.
In 2021 the year started positively for the Indian market, in fact, in Q1 932,479 units have been sold, reporting a 44.5% increase in sales compared to Q1 2020, and in Q2 sales started growing quickly, reporting a 320.3% increase in sales with 645,132 units due to the incredibly low volumes in Q2 2020.
In Q3 sales slowed down significantly, gaining 2.1% sales with 739,521 units, while in Q4 sales dropped 14.8% with 759,599 units.
Indeed, Full-Year sales for 2021 have been 3.08 million, reporting a 26.7% increase compared to 2020.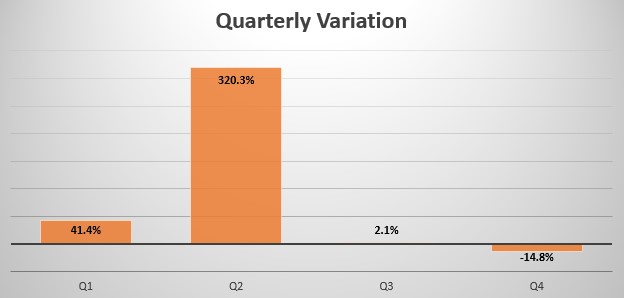 Brand-wise, the leader Maruti (+12.6%) lost 5% market share, followed by Hyundai (+17.9%), which lost 1% share this year. Tata on the other hand gained 3.9% share, rising 98.9%.  Mahindra jumped 1 position and gained 43.9%, overtaking Kia which gained 29.2%.
Toyota gained 58.6%, followed by Renault (+18.3%) and Honda which gained 26.3% sales. Closing the leaderboard we have MG -up 1 spot- gaining 45.6% this year and Nissan entering the leaderboard by jumping 9 spots, gaining 1553.4%.
The most sold vehicle this year has been the Maruti Wagon R (+24%) with 183,851 units sold and jumped 3 spots, overtaking the Maruti Swift, which gained 8.9% registering 175,052 new sales this year. The Maruti Baleno (+11.9%) closes the podium and reports 172,237 new units sold.
Tables with sales figures
In the tables below we report sales for top 10 Brands, top 10 Manufacturer Groups and top 10 Models.