Germany Auto market in 2021 falls by 10.1% with 2.62 million sales, reporting a very severe drop in the second half after a positive Q2. Mercedes reports the worst performance on the leaderboard, losing 25.7%.
Market Trend
The German car market this year attempted to recover from the pandemic crash of 2020 but reported a double-digits fall due to progressively worse performance in the second half of the year.
It is the largest and most stable car market in Europe, with a medium-term growth started in 2010 when car passenger sales were 2.91 million. In 2019, despite all pessimistic views on the economic environment, the market reached 3.6 million car passenger sales, hitting the new all-time record.
Considering the LCVs segment with 2019 at 343,000 units, the German light vehicles market figures were 3.94 million, the fourth largest market after China, USA, and Japan.
Due to the COVID-19 pandemic sales fell in  2020. In fact, 2,917,678 units have been sold, reporting a decline of 19.1% compared to 2019.
In 2021 the year started negatively for the German market, in fact, in Q1 656,452 units have been sold, reporting a 6.4% decrease in sales compared to Q1 2020, on the other hand in Q2 sales started growing in double-digits, reporting a 44.2% increase in sales with 734,437 units due to the low volumes in Q2 2020.
In Q3 sales started falling quickly, losing 24.6% with 626,672 units, and in Q4 sales dropped even further, losing 31% with 604,571.
Indeed, Full-Year sales for 2021 have been 2.62 million, reporting a 10.1% decrease compared to 2019.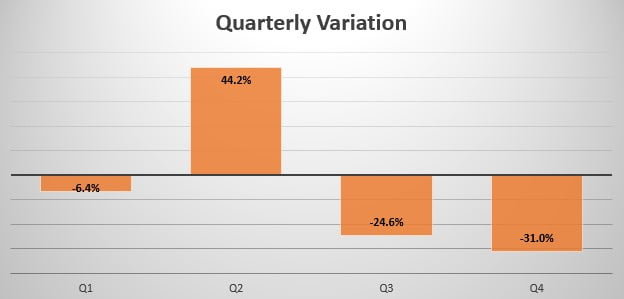 Brand-wise, this year the leader Volkswagen (-7%) gained 0.7% market share, followed by Mercedes (-25.7%), which lost 1.8% share. BMW gained 0.2% share, falling 7.7%.  Audi dropped 15%, followed by Opel which rose 2 spots and reported the best performance by gaining 10.7%.
Skoda lost 17.3%, followed by Ford which reported the worst performance in the leaderboard, falling 35%, and Hyundai which on the other hand jumped 2 spots and grew 1.5% sales. Closing the leaderboard we have Renault -down 1 spot- losing 15.5% this year and Seat which fell in 10th position, losing 19.4%.
The most sold vehicle for the 41st year in a row has been the Volkswagen Golf (-32.8%) with 91,621 units sold holding 3.8% share, followed by the Volkswagen T-Roc, which jumped 5 spots and gained 13% registering 57,424 new sales this year. The Volkswagen Tiguan (-8%) closes the podium and sold 55,527 units.
Tables with sales figures
In the tables below we report sales for all Brands, top 10 Manufacturers Group and top 10 Models.