Israeli auto market in 2020 falls by 15.5% as the pandemic and lockdowns affect sales. Full-Year sales have been 214.544 units. Seat (+12.4%) is the only brand on the leaderboard to report growth and climbs 3 positions.
Market Trend
The Israeli car market has been hit in 2020 by the world-wide COVID-19 pandemic, which has impacted sales significantly.
During the last decade, the market has steadily grown, fueled by the country's consistent development. In 2016 auto sales hit the new all-time record, with 286.701 units sold. Then the market reached saturation and – despite the economic environment was unchanged – the demand decelerated and sales declined three years in a row, with 253.800 registrations in 2019.
After starting the year with a positive trend (+8.6%), the market quickly collapsed in March as the virus struck, in fact, the Israeli Government initially imposed closure for non-essential businesses from March 15, while the national state of emergency and stricter regulations were introduced from March 19. The sharpest drop in sales this year was in April when sales declined by 86.9% as the entire country was put in a complete lockdown. In the following months, recovery was quick, in fact, there was double-digit growth in June (+10.2%) and July (+17.4%). The second half of the year has been very volatile, with double-digit growth also in October (+25.5%) and November (+31.8%), and big dips in September (-35.7%) and especially in December (-60.4%).
Indeed, Full-Year sales for 2020 have been 214.544, reporting a decline of 15.5% compared to 2019.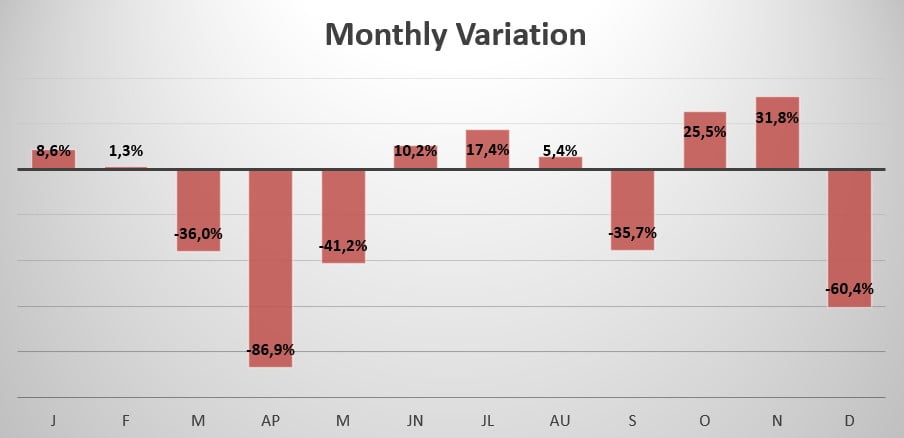 Brand-wise, this year the leader Hyundai (-16.4%) lost 0.2% market share, while in second place we have Toyota (-19.9%), which lost 0.7% share, followed by Kia which lost 0.7% share, falling 20.3%.  Skoda remained in 4th place and lost only 0.1%, followed by Mitsubishi which lost 10.1%.
Seat jumped 3 spots and registered the best performance in the leaderboard by gaining 12.4%, followed by Mazda -up 1 spot- (-12.1%) and Suzuki losing 25.8% sales. Closing the leaderboard we have Renault -up 1 spot- losing 18% this year and Nissan -down 3 spots- registering the worst performance by losing 32.8%.
The most sold vehicle this year remains the Toyota Corolla (-15.4%) with 12.291 units sold, followed by the Hyundai Ioniq (-10.4%) registering 9.960 new sales this year. The Kia Picanto (-4.2%) closes the podium and reports 8.169 new units sold.
Tables with sales figures
In the tables below we report sales for all Brands, top 10 Manufacturers Groups and top 10 models.