Portuguese auto market in 2020 falls by 35% as the pandemic and lockdowns affect sales. Full-Year sales have been 145.417. Fiat reports the worst performance by falling 3 spots and losing over half its sales.
Market Trend
The Portuguese car market has been hit very harshly in 2020 by the world-wide COVID-19 pandemic, which has impacted sales significantly.
The financial crisis in 2008/2009 hit Portugal and the Portuguese automotive industry more than any other country in Europe, except Greece, and the market lost over 75% of pre-crisis volume in three years.
However, since 2012 the economy started to recover and was followed by the auto industry, which scored 6 years of growth from 2012 when a negative peak of below 100.000 units was hit, and 2018, when car sales were 225.825. In 2019 the market pushed the brakes, ending the year at 223.796 sales (-2.1%).
After starting the year with a slight negative trend (-8%), the market quickly collapsed in March as the virus struck. In order to slow down the spread of the virus, most European countries have imposed lockdowns to various degrees. Portugal's national lockdown started on March 19. All non-essential businesses were closed to customers. 
The sharpest drop in sales this year was in April when sales declined by 87% as the entire country was put in a complete lockdown. The market recovered until August (-0.1%), but the trend quickly reversed before the market could start growing again and started falling in double-digits for the rest of the year.
Indeed, Full-Year sales for 2020 have been 145.417, reporting a decline of 35% compared to 2019.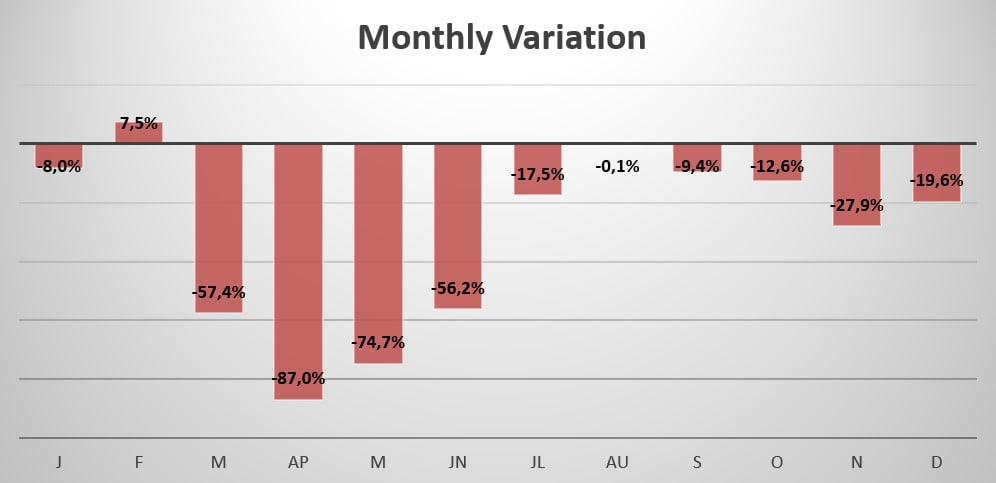 Brand-wise, this year the leader Renault (-35.8%) lost 0.2% market share, followed by Peugeot (-33%), which lost 0.3% share, and Mercedes which gained 2.1% share, falling 17% and registering the top 10 hold in the leaderboard.  BMW -up 2 spots- jumped 4th place and lost 24.5%, followed by Citroen which lost 41.1%.
Nissan -up 3 spots- reached 6th place and lost 28.5%, followed by Fiat, which fell 3 spots after losing 53.1% sales and registered the worst performance in the leaderboard, and by Seat -down 1 spot- which lost 37.6%. Closing the leaderboard we have Volkswagen -down 1 spot- losing 32.8% this year and Ford which entered the leaderboard by jumping 2 spots, losing 27.3%.
The most sold vehicle this year remains the Renault Clio (-25%) with 7.989 units sold, followed by the Mercedes A Class (-23.9%) registering 5.978 new sales this year. The Peugeot 2008 (-4%) enters the podium by jumping 5 spots with 4.781 new units sold.
Tables with sales figures
In the tables below we report sales for all Brands, top 10 Manufacturers Group and top 10 Models