Pakistani vehicles market in 2020 falls by 33.6% as the pandemic and lockdowns affect sales. Full-Year sales have been 127.939, while the leader Suzuki lost 10.4% market share, dropping 47.1%.
Market Trend
The Pakistani car market has been hit in 2020 by the world-wide COVID-19 pandemic, which has impacted sales significantly.
The market has been unstable in the 2010-2014 period of time, registering a sharp fall in 2013, before embarking on a positive pathway in the following years. In 2017 the market was sustained by robust internal demand, reaching 247.330 sales (+18.3%), followed by the current all-time record in 2018 at 264.442 (+6.9%).
However, in 2019, the market has imploded due to a tax introduction, making new car imports negligible. As a result, the Full-year ended at 192.814 units sold, losing 27.1% from the previous year.
After starting the year with a very negative trend (-42.6%), the market kept collapsing in March as the virus struck. The sharpest drop in sales this year was in April when sales declined by 99.6%.
In the following months, the market recovered and started growing again in August when sales rose by 36.2%. For the rest of the year, double-digit growth was maintained, with the biggest growth registered in November (+45.5%).
Indeed, Full-Year sales for 2020 have been 127.939, reporting a decline of 33.6% compared to 2019.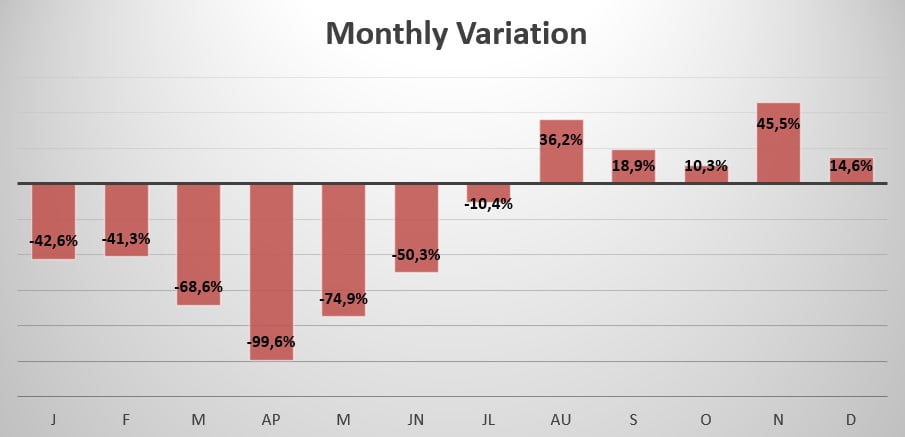 Brand-wise, this year the leader Suzuki (-47.1%) lost 10.4% market share, followed by Toyota (-14.1%), which gained 7.9% share. Honda gained 3.1% share, falling 21.4%. 
Hyundai -up 4 spots- reached 4th place, followed by Master -down 1 spot- which lost 49.6%. Hino lost 67.1%, followed by Isuzu -down 2 spots- which lost 85.5%, and Jac on the other hand gained 6.7%. 
The most sold vehicle this year has been the Suzuki Alto (-7%) with 23.569 units sold, overtaking the Toyota Corolla, which lost 53.5% registering 18.825 new sales this year. The Toyota Yaris closes the podium and reports 14.172 new units sold.
Tables with sales figures
In the tables below we report sales for all Brands, top Manufacturers Group and top 10 Models.