New Caledonian vehicles market in 2020 grows by 2.3% despite the pandemic and restrictions. Full-Year sales have been 7.909, while Nissan outperforms the market (+30%) and enters the leaderboard.
Market Trend
The New Caledonian car market grew in 2020 despite the world-wide COVID-19 pandemic, which has heavily impacted sales almost everywhere.
The market in recent years has lost steam declining from 11.059 units sold in 2012 to 8.410 in 2016. During 2017 consumer demand was stable and the year ended with a little recovery, up 1.6% at 8.544 units. In 2018 the market registered a negative performance, with 8.206 sales, losing 4% from the previous year. In 2019 the market kept the previous year's negative trend. Indeed, the Full-year ended with sales at 7.728, declining 5.8% from the previous year.
After starting the year with a slightly positive trend (+7.3%), the market quickly collapsed in March as the virus struck. The sharpest drop in sales this year was in April when sales declined by 47.3%.
The market immediately recovered in May (+8.2%), and kept growing in the following months until October (-29.9%) when sales fell. Nevertheless, the market recovered and ended with a growth of 11% in December.
Indeed, Full-Year sales for 2020 have been 7.909, reporting an increase of 2.3% compared to 2019.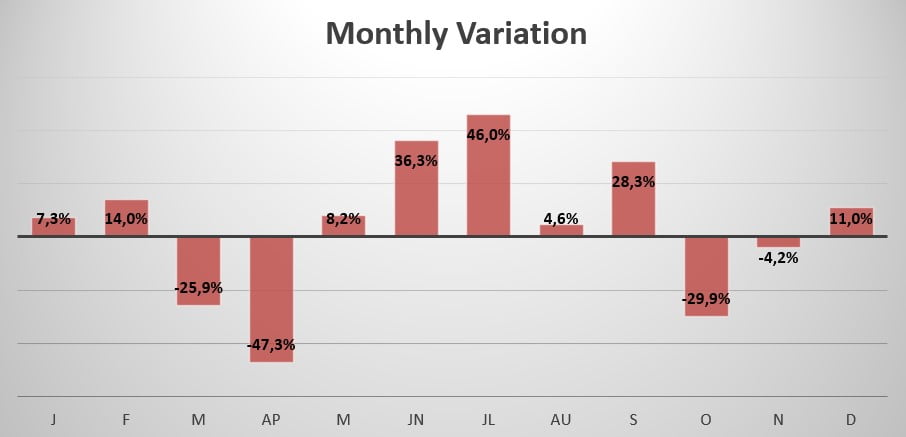 Brand-wise, this year the leader Toyota (+13.2%) gained 2.1% market share, followed by Dacia (-1.9%), which lost 0.2% share. Peugeot lost 1.8% share, falling 17.3% and reporting the worst performance on the leaderboard.  Ford reached 4th place (+20.3%), followed by Renault (-2.9%).
Citroen -down 2 spots- lost 13%, followed by Hyundai -down 1 spot- which lost 9.1%, and Kia which lost 1.5% sales. Closing the leaderboard we have Suzuki losing 9.7% and Nissan entering the leaderboard by jumping 3 spots and reporting the best performance (+30%).
The most sold vehicle this year has been the Dacia Duster (-1.9%) with 508 units sold, followed by the Toyota Hilux, which gained 19.4% registering 456 new sales this year. The Ford Ranger (-9.3%) closes the podium and reports 311 new units sold.