Romanian auto market in 2020 falls by 21.8% as the pandemic and lockdowns affect sales. Full-Year sales have been 126.351. Peugeot enters the leaderboard by jumping 3 spots and reports the top 10 hold (-4.4%).
Market Trend
The Romanian car market has been hit in 2020 by the world-wide COVID-19 pandemic, which has impacted sales significantly.
The market was among the worst in Europe during the 2009 crisis, declining to a negative peak in 2013 with 57.710 car passenger's sales. Then, the economic recovery pushed the market up with uninterrupted growth up to 2019 with 161.562 sales (+23.4%).
Nevertheless, the year started with a double-digit drop (-10.5%), but the situation got worse as the market kept collapsing in March when the virus struck. The sharpest drop in sales this year was not April (-50.3%) but August, when sales declined by 51.9%. The entire first 8 months of the year have been down in double-digits, while in September the market grew an impressive 79.9%, and remained positive for the following 3 months.
Indeed, Full-Year sales for 2020 have been 126.351, reporting a decline of 21.8% compared to 2019.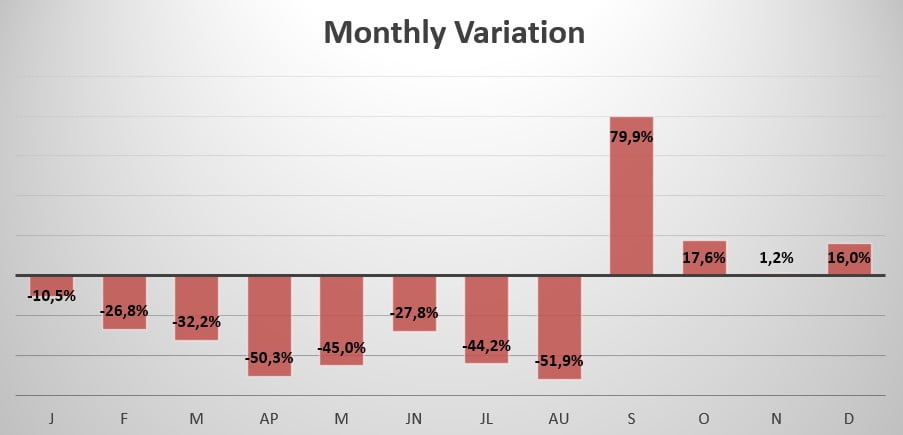 Brand-wise, this year the leader and home-grown brand Dacia (-20.6%) gained 0.5% market share, followed by Skoda (-16.8%) -up 2 spots-, which gained 0.4% share, overtaking Renault which lost 0.3% share, falling 24.3%.  Volkswagen -up 1 spot- reached 4th place and lost 9.3%, followed by Ford -down 2 spots- which lost 42% and registered the worst performance on the leaderboard.
Hyundai -up 1 spot- lost 14.6%, followed by Toyota (-40.9%) and Suzuki which lost 20.2% sales. Closing the leaderboard we have Peugeot -up 3 spots- entering the leaderboard and registering the top 1o hold (-4.4%) and finally Mercedes -up 1 spot- in last place losing 18.8%.
The most sold vehicle this year remains the Dacia Logan (-28.5%) with 18.474 units sold, followed by the Dacia Duster (-15%) registering 9.825 new sales this year. The Dacia Sandero (-5.1%) closes the podium and reports 9.420 new units sold.
Tables with sales figures
In the tables below we report sales for all Brands, top 10 Manufacturers Group and top 10 Models