Switzerland's car market in 2021 rises by 0.7% with 238,481 sales, reporting a very strong first half, followed by a progressively sharper fall. Hyundai reports the largest growth, gaining 28.8% and enters the leaderboard.
Market Trend
Switzerland's car market this year attempted to recover from the pandemic crash of 2020 and reported a very promising performance in the first half, followed by a progressively sharper drop.
The Switzerland vehicles market is one of the most stable in the World with car passenger sales in the last decade always among the minimum of 293,000 done in 2010 and a maximum of 329,000 in 2012. In 2018 sales were below the 300,000 units at the second-lowest level in the decade, while in 2019, sales have marginally recovered, improving 3.9% from the previous year.
Sales in 2020 were heavily influenced by the COVID-19 pandemic, impacting all sectors. In fact, 236,828 units have been sold, reporting a decline of 24%.
In 2021 the year started almost flat for the Switzerland market, in fact, in Q1 56,497 units have been sold, reporting a 1.9% increase in sales compared to Q1 2020, and in Q2 sales started growing in double-digits, reporting a 42.5% increase in sales with 68,050 units due to the low volumes in Q2 2020.
In Q3 sales started falling again, losing 8% with 55,526 units, while in Q4 sales dropped 20.3% with 58,408 units.
Indeed, Full-Year sales for 2021 have been 238,481, reporting a 0.7% increase compared to 2020.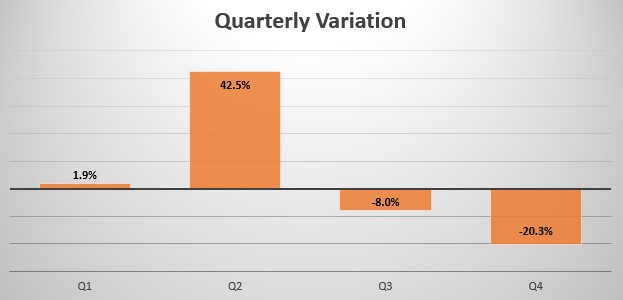 Brand-wise, this year the leader Volkswagen (-2.3%) lost 0.3% market share, followed by Mercedes (-5.4%), which lost 0.6% share, and by BMW which lost 0.2% share, falling 1.7%.  Skoda remained in 4th place and lost 0.3%, followed by Audi which gained 14.6%.
Toyota reached 6th place and gained 20.8%, followed by Seat (-5.2%) and Renault which fell 2 spots and lost 20.9%. Closing the leaderboard we have Ford losing 14.1% this year and Hyundai entered the leaderboard by jumping 1 spot and gained 28.8%.
The most sold vehicle this year is the Tesla Model 3 (+12.7%) with 5,695 units sold, followed by the Skoda Octavia registering 4,721 new sales this year (-19.9%). The Volkswagen Tiguan (-11.1%) closes the podium and reports 4,412 new units sold.
Tables with sales figures
In the tables below we report sales for all Brands, top 10 Manufacturers Groups and top 10 Models.