Bulgaria's car market in 2021 rises by 37.4% with 30,734 sales, reporting a double-digit increase in sales in every quarter. Skoda is the only brand to drop in double-digits, falling 17.3%.
Market Trend
The Bulgarian car market this year recovered very effectively from the pandemic crash of 2020 and reported double-digit growth in all quarters.
The car market in recent years was steadily recovering from the huge fall reported in 2009. The market was improving since 2014 and in 2018 reached 41,390 sales (+10.8%) before hitting the best level of the decade in 2019 – almost equalizing the 2008's volume – with 44,449 units sold (+7.4%).
Sales in 2020 were heavily influenced by the COVID-19 pandemic, impacting all sectors. In fact, 28,705 units have been sold, reporting a decline of 35.4%.
In 2021 the year started positively for the Bulgarian market, in fact, in Q1 6,940 units have been sold, reporting a 17.1% increase in sales, followed in Q2 by a 117.3% increase in sales with 9,199 units due to the incredibly low volumes in Q2 2020.
In Q3 7,869 units were sold, gaining 14.6%, and kept rising in Q4 with 6,726 units, gaining 26%.
Indeed, Full-Year sales for 2021 have been 30,734, reporting a 37.4% increase compared to 2020.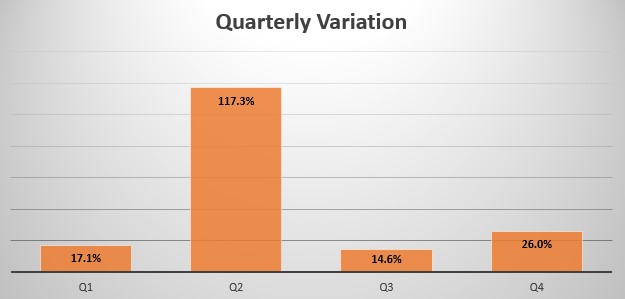 Brand-wise, this year the new leader Dacia (+13%) gained 1.6% market share, followed by Renault (+39.3%), which gained 0.7%. Toyota gained 0.5% share and rose 37%.  Skoda drops in 4th place while losing 17.3%, followed by Peugeot which gained 49.1%.
Volkswagen rose 1 spot and gained only 4.1%, followed by Kia (+59.7%) and Nissan which lost 9.9% sales. Closing the leaderboard we have Citroen -up 3 spots- gaining 125.1% and reporting the best performance, while Ford rose 3 positions and gained 105.9%.
Tables with sales figures
In the tables below we report sales for all Brands and top 10 Manufacturer Groups.