Belgium's car market in 2021 falls by 11.2% with 383,123 sales, reporting a very severe drop in the second half of the year. BMW is the new leader and the only brand to report a positive performance, gaining 7.1%.
Market Trend
The Belgian car market this year was unable to recover from the pandemic crash of 2020, reporting positive performance only in Q2 and dropped severely in the second half of the year.
In recent years the market was moderately positive, with sales grew up from 486k in 2012 to 550k in 2019, sustained by the positive economic momentum and by the incentives to renovate the car park with green vehicles. In 2019, despite decelerating compared to previous months, registrations reported the 5th annual gain in a row.
The key factors for the development of the industry were the introduction of vehicles with lower CO2 emissions and the country's economic development. Both factors pushing the market alternatively up and down.
Sales in 2020 were heavily influenced by the COVID-19 pandemic, impacting all sectors. In fact, 431,491 units have been sold, reporting a decline of 21.5%.
In 2021 the year started negatively for the Belgian market, in fact, in Q1 119,237 units have been sold, reporting a 6.4% decrease in sales compared to Q1 2020, while in Q2 sales started growing, reporting a 26.9% increase in sales with 113,154 units due to the incredibly low volumes in Q2 2020.
In Q3 sales started falling in double-digits, losing 30.6% sales with 81,176 units, and kept falling 28.9% in Q4 with 69,556 units.
Indeed, Full-Year sales for 2021 have been 383,123, reporting a 11.2% decrease compared to 2020.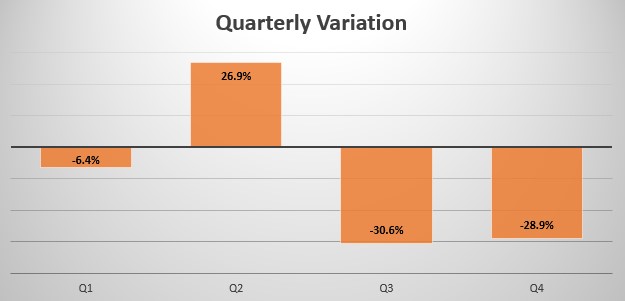 Brand-wise, this year the new leader BMW (+7.1%) gained 1.7% market share and was the only brand to report a positive performance, overtaking Volkswagen (-13.8%), which lost 0.3% share. Peugeot lost 0.3% share as well despite falling 15.1%.  Audi rose in 4th place while losing 0.1%, followed by Mercedes which lost 13.3%.
Renault -down 2 spots- lost 36.7% reporting the worst performance on the leaderboard, followed by Citroen (-12.3%) and Opel which jumped 1 spot and lost 13.1% sales. Closing the leaderboard we have Skoda -down 1 spot- which lost 21.8% and Toyota entering the leaderboard by losing 2.7%.
The most sold vehicle this year has been the Volkswagen Golf (-19.1%) with 7,809 units sold, followed by the Opel Corsa, which gained 25.7% registering 7,717 new sales this year. The Renault Clio (-21.4%) closes the podium and reports 7,325 new units sold.
Tables with sales figures
In the tables below we report sales for all Brands and top 10 Manufacturers Group.