Guadeloupe's Auto market in 2021 rises by 7.8% with 15,493 sales, reporting a positive performance in all quarters except for Q3. Leader Renault reports the least impressive performance, while Toyota keeps rising.
Market Trend
Guadeloupe's car market this year recovered effectively from the pandemic crash of 2020 and reported a very promising performance in all quarters except for Q3.
Guadeloupe is a French territory in the Caribbean zone. The economy is largely focused on tourism and public service. The region has rich biodiversity and a strategic location. Banana and sugar cane cultivation is still key to the economy. Nevertheless, high unemployment, particularly for young people and early school-leaving, hampers regional development.
The new vehicle's market is almost stable and in recent years has hit a peak in 2016 with 16,440 sales, while in 2017 sales were 15,516, down 5.6% from the previous year.
In 2018, the market immediately recovered, closing the year with 17,520 units sold, up 5.3%, while in 2019 19,206 units have been sold, reporting a 9.6% increase.
Due to the COVID-19 Pandemic, full-Year sales for 2020 have been 14,366, reporting a decline of 25.2% compared to 2019.
In 2021 the year started slightly positively for the Guadeloupe market, in fact, in Q1 3,514 units have been sold, reporting a 4.2% increase in sales compared to Q1 2020, and in Q2 sales kept growing steadily, reporting a 4.1% increase in sales with 3,747 units sold.
In Q3 sales decreased in double-digits, falling 16.9% with 2,814 units, but recovered quickly in Q4 with 5,418 units, rising 35.2%.
Indeed, Full-Year sales for 2021 have been 15,493, reporting a 7.8% increase compared to 2020.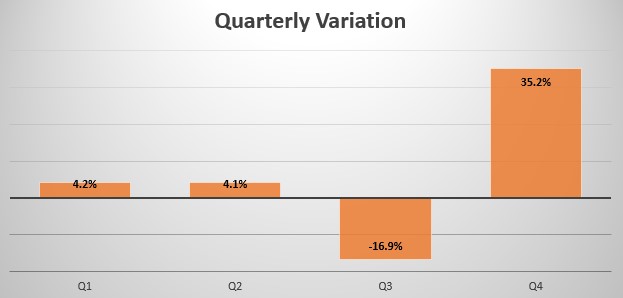 Brand-wise, this year the leader Renault (-0.5%) lost 2% market share, followed by Toyota (+17.7%) which gained 1.3% market share. Peugeot (+17.3%) was in the third position and gained 1.2% market share as well.
The most sold model in the country is the Renault Clio with 1,333 sales (-3.7%), holding 8.6% market share.