Hungarian auto market in 2020 falls by 18.9% as the pandemic and lockdowns affect sales. Full-Year sales have been 128.012. The leader Suzuki plummets and loses 4.8% market share.
Market Trend
The Hungarian car market has been hit in 2020 by the world-wide COVID-19 pandemic, which has impacted sales significantly.
The market was heavily hit by the 2008 crisis losing 75% of volumes. However, the light vehicles market doubled sales from 63.931 in 2012 to 136.208 in 2017, albeit light commercial vehicles declined for the end of a fiscal stimulus introduced the year before.
In 2018 the market kept the impressive run, with another astonishing 17.4% year-on-year improvement, while in 2019, marked the 6th consecutive annual double-digit growth. Indeed, the Full-year ended at 157.891, up 15.6% from the previous year.
After starting the year with a positive trend (+4.1%), the market quickly started collapsing in March as the virus struck. The sharpest drop in sales this year was in May when sales declined by 54.4%. In the following months, the market recovered slowly and remained down in double-digits until September, when sales were up 18.6%. Q4 was still negative, and sales in December were down 21.2%.
Indeed, Full-Year sales for 2020 have been 128.012, reporting a decline of 18.9% compared to 2019.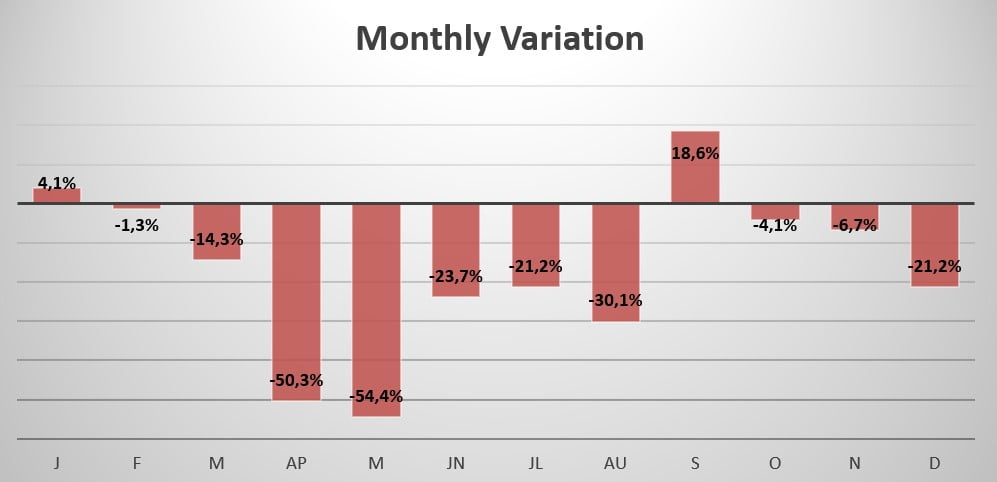 Brand-wise, this year the leader Suzuki (-42.6%) lost 4.8% market share, followed by the growing Toyota (+14.7%) -up 3 spots-, which gained 2.9% share. Ford on the other hand lost 0.8% share, falling 25.3%.  Dacia reached 4th place (-1.2%), followed by Skoda which lost 19.4%.
Volkswagen remained in 6th position and lost 11.4%, followed by Fiat which reported the best performance on the leaderboard by gaining 22.2%, and Kia which lost 20.8% sales. Closing the leaderboard we have Opel -down 5 spots- losing 45.8% this year and reporting the worst performance and Renault -down 1 spot- losing 31.6%.
The most sold vehicle this year has been the Suzuki Vitara (-43.2%) with 6.882 units sold, followed by the Suzuki SX4 S-Cross, which lost 39.7% registering 5.578 new sales this year. The Skoda Octavia (-29.2%) closes the podium and reports 4.929 new units sold.
Tables with sales figures
In the tables below we report sales for top 10 Brands and top 10 Models.