Icelandic vehicles market in 2020 falls by 44.5% as the pandemic and lockdowns affect sales. Full-Year sales have been 9.184. Toyota remains the leader, followed by Tesla and Kia, while Nissan falls 63.3%.
Economic Environment
After suffering the second-sharpest contraction on record in Q2, the economy started to show tentative signs of recovery towards the end of Q3. Consumer confidence shot up in September from August's near-decade low, while exports rebounded strongly in the same month to their highest value since October 2019.
However, the unemployment rate ticked up to a four-month high in September, likely capping private consumption. Moreover, overnight stays decreased at a sharper rate in September than in August, pointing to a still-subdued tourism sector. Turning to Q4, new Covid-19-related restrictions were implemented in early October due to a rapid surge in new cases, which will likely hamper economic activity in the quarter.
Meanwhile, on the political front, on 1 October, the government tabled the 2021 draft budget, which focuses on improving healthcare, welfare and education, while easing the tax burden.
Market Trend
The Icelandic car market has been hit in 2020 by the world-wide COVID-19 pandemic, which has impacted sales significantly.
The automotive industry has been on a positive track from 2014 to 2017m when it hit the highest volume since 2009. However, in 2018 the market suffered a hard drop of 15.7%  and car passenger sales have been 17.871, much less than the previous year's 21.204.
In 2019, According to data released by the Minister of Transportation, the market trend even worsened. Indeed, Total sales have been 16.559 (-7.3%).
After starting the year with a negative trend (-16.2% in January and -13.4% in February), the market was flat in March but quickly collapsed in April (-69%) as the virus reached the island. The sharpest drop in sales this year was in May when sales declined by 74.4%. In the following months, the market experienced a very mixed trend, with sharp increases and decreases in sales.
Indeed, Full-Year sales for 2020 have been 9.184, reporting a decline of 44.5% compared to 2019.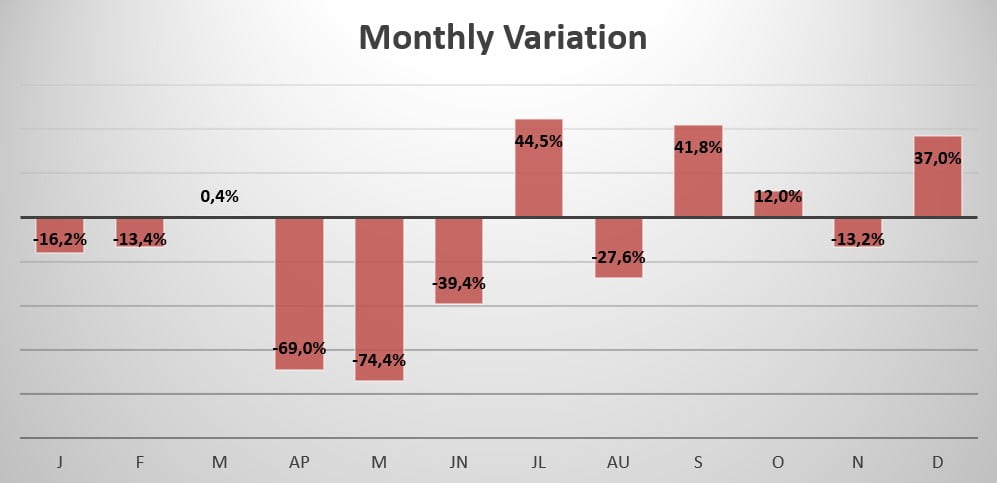 Brand-wise, this year the leader Toyota (-54.2%) lost 3.3% market share, followed in second place by Kia, which now holds 10.1% share, and Tesla with 9.8% share.  Hyundai fell in 2nd place and lost 53.8%, followed by Volkswagen which lost 50.8%.
Mitsubishi remained in 6th place and lost 38.8%, followed by Suzuki (-40.4%) and Volvo which lost 34.8% sales. Closing the leaderboard we have Nissan losing 63.3% this year and Skoda in last place losing 49.1%.
The most sold vehicle this year is the Tesla Model 3 with 856 units sold, followed by the Toyota Rav4 registering 530 new sales this year (-23.9%). The Mitsubishi Outlander (+26.6%) closes the podium and reports 529 new units sold.
Tables with sales figures
In the tables below we report sales for all Brands, top 10 Manufacturers Group and top 10 Models.