Iceland's car market in 2021 rises by 53.6% with 16,108 sales, reporting a very strong performance every quarter, except for a slight 7.4% drop in Q1. Peugeot enters the leaderboard and reports the best performance (+110%).
Market Trend
Iceland's car market this year recovered very effectively from the pandemic crash of 2020 and reported a very strong performance in all quarters except Q1.
The automotive industry has been on a positive track from 2014 to 2017 when it hit the highest volume since 2009. However, in 2018 the market suffered a hard drop of 15.7%  and car passenger sales have been 17,871, much less than the previous year's 21,204.
In 2019, According to data released by the Minister of Transportation, the market trend even worsened. Indeed, Total sales have been 16,559 (-7.3%).
Due to the COVID-19 Pandemic, full-Year sales for 2020 have been 9,184, reporting a decline of 44.5% compared to 2019.
In 2021 the year started negatively for the Icelandic market, in fact, in Q1 2,521 units have been sold, reporting a 7.4% decrease in sales compared to Q1 2020, but on the other hand in Q2 sales started growing quickly, reporting a 108.1% increase in sales with 5,004 units due to the incredibly low volumes in Q2 2020.
In Q3 sales kept growing very quickly, gaining 51.3% sales with 4,546 units, followed by a 71.3% growth in Q4 with 4,037 units.
Indeed, Full-Year sales for 2021 have been 16,108, reporting a 53.6% increase compared to 2020.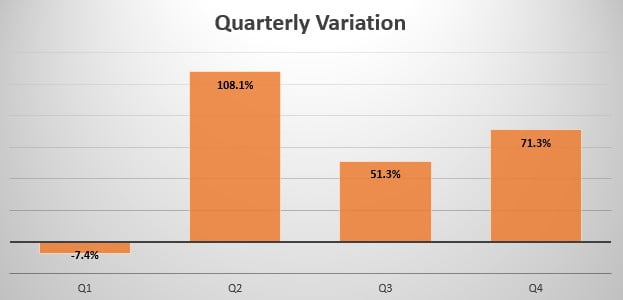 Brand-wise, this year the leader Toyota (+37.5%) lost 1.3% market share, followed in second place by Kia (+95.9%), which gained 3% share, and Hyundai (+66.3%) with 8.2% share.  Tesla fell in 4th place and gained 15.7%, followed by Volkswagen which gained 27.7%.
Volvo -up 2 spots- gained 46.2%, followed by Suzuki (+32.6%) and Mercedes which rose 3 spots and gained 79.2% sales. Closing the leaderboard we have Peugeot gaining 110% and rose 5 spots, and Skoda in last place gaining 24.5%.
The most sold vehicle this year is the Toyota Rav4 (+17.7%) with 624 units sold, followed by the Hyundai Tucson registering 533 new sales this year (+294.8%). The Tesla Model Y closes the podium and reports 532 new units sold.
Tables with sales figures
In the tables below we report sales for all Brands, top 10 Manufacturers Group and top 10 Models.