Nigeria's Auto market in 2021 gains 35.6% with 10,443 sales, reporting a double-digit drop only in Q1 and large growth the resto of the year. Mitsubishi reports the best performance on the leaderboard, gaining 60.4%.
Market Trend
Nigeria's car market this year grew very effectively in all quarters except for Q1.
Until 2014 the market grew steady, eventually hitting the 57,000 units record for new vehicles. At the end of that year, the Nigerian Automotive Industry Development Plan was created matching the Brazilian's one in which the government rather than "invite" to produce locally, "forced" car-makers to appoint local facilities wishing to be part of the "party".
In the first two following years, the government released almost 30 licenses, while the domestic market collapsed falling down to 11,743 units in 2017, due to the deep economic crisis generated by the fall in oil price and the poor domestic demand.
In 2018 the market started to recover, considering the level was near 20% of the 2014 level. Sales grew up at 19,545 and the first group of car manufacturers started to open small local plants to supply the domestic market. In 2019 the light vehicles market was back in difficulties, following the fast recovery shown in the previous year and sales declined 40.3% at 11,663 units, the second-worst level in the last decade.
The Nigerian new light vehicles market seems unable to recover after the series of negative facts which impacted severely the market in the last years. In 2020, the modest growth of the economy was killed by the combined effects of strict social distancing measures and widespread travel restrictions due to covid19 and the fall of oil prices in the international market.
Because of the COVID-19 pandemic and the fall in oil prices sales significantly decreased in  2020. In fact, sales have been 7,451, reporting a fall of 36.1% compared to 2019.
In 2021 the year started negatively for the Nigerian market, in fact, in Q1 2,600 units have been sold, reporting a 32.2% decrease in sales compared to Q1 2020, while in Q2 sales started growing again, reporting a 339.6% increase with 2,800 units sold.
In Q3 2,658 units ere sold, reporting a 24.9% growth, and in Q4 the market increased again, rising 116.8% with 2,385 units.
Indeed, Full-Year sales for 2021 have been 10,443, reporting a 35.7% increase compared to 2020.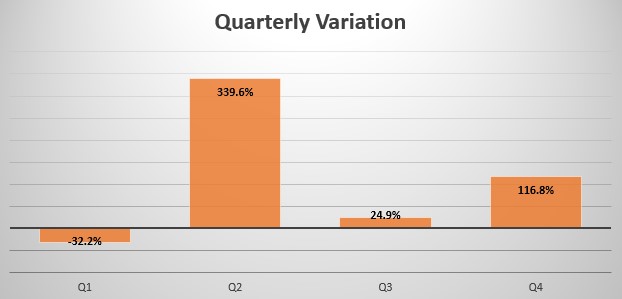 Brand-wise, this year the leader Toyota (+29.6%) lost 0.6% market share, followed by Ford (+28.9%), which lost 0.5% share. Mitsubishi (+60.4%) reached the third position and gained 1.7% market share.
The most sold model in the country remains the Ford Ranger with 1,255 sales (+32.7%), holding 12.6% share.