Norway Auto market in 2021 rises by 24.7% with 176,276 sales, reporting a strong performance this year, despite gaining just 3% in Q4. Tesla reaches the top of the leaderboard, gaining 133.5% this year.
Market Trend
The Norwegian car market this year attempted to recover from the pandemic crash of 2020 and reported a positive performance on all quarters, with the lowest growth reported in Q4 (+3%).
The market has deeply changed in recent years by the decision to boost-zero emission vehicle sales and the introduction of a medium terms incentive policy with EV fiscal cost at zero, including VAT and final price for consumers almost equivalent between traditional combustion and AFVs. The result is the fast replacement of petrol-based vehicles with Hybrid or Electric cars.
Norway has taken the decision to stop fossil-fuelled vehicles by 2025. Pushed by the need to renovate, the domestic market grew up from 2012 to 2017 hitting five all-time records in a row, before a moderate decline in 2018 at 149,991 and in 2019 at 142,381. However, the market detains World's leadership in green vehicle sales.
Despite the COVID-19 pandemic, sales fell only slightly in  2020 as it was the best performing market in Europe. In fact, 141,405 units have been sold, reporting a decline of only 0.7% compared to 2019.
In 2021 the year started positively for the Norwegian market, in fact, in Q1 36,309 units have been sold, reporting a 12.2% increase in sales compared to Q1 2020, in Q2 sales kept growing, reporting a 77.3% increase in sales with 47,621 units sold.
In Q3 sales slowed down but maintained growth, gaining 24.4% sales with 44,926 units, and in Q4 47,420 units were sold (+3%).
Indeed, Full-Year sales for 2021 have been 176,276, reporting a 24.7% increase compared to 2020.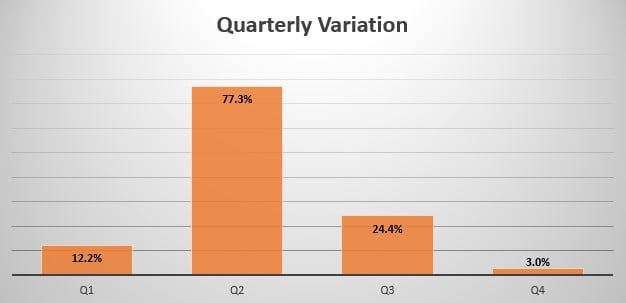 Brand-wise, this year the new leader Tesla (+133.5%) gained 5.3% market share, overtaking Volkswagen (-12.2%), which lost 4.3% share. Toyota gained 22.9%, and lost 0.3% market share.  Volvo reached 4th place while gaining 45.6%, overtaking BMW which gained 15.5%.
Audi fell 3 spots and gained just 0.8%, followed by Skoda, which climbed 2 spots (+36.8%), and Ford which rose 7 spots and increased sales by 189.4% reporting the best performance in the leaderboard. Closing the leaderboard we have Mercedes -down 2 spots- gaining 15.3% this year and Hyundai ending up in last place by falling 2 spots, gaining 13.7%.
The most sold vehicle this year has been the Tesla Model 3 (+92.5%) with 14,957 units sold, followed by the Toyota Rav4, which gained 103.2% registering 8,932 new sales this year. The Volkswagen ID.4 closes the podium with 7.927 units sold.
Tables with sales figures
In the tables below we report sales for all Brands, top 10 Manufacturers Group and Top 10 models.