Spain best-selling cars ranking in the 2019 is led again by the Seat Leon while the Ibiza felt down out of the battle for leadership. In second place the Dacia Sandero at the record share followed by the solid Nissan Qashqai. The Seat Arona is climbing the ranking while the Peugeot 3008 enters into the Top 10.
Since the national Spanish manufacturer was acquired by the Volkswagen group, Spain welcomed the localization of vehicles manufacturing facilities becoming one of the most relevant production hub in Europe and in the World. The domestic consumer does not recognize Seat as the unique national brand and the market concentration is among the lowest in the entire Europe.
The best selling car ranking is characterized by a wide battle for the leadership among several models of different brands, despite the two small Seat, the Ibiza and the Leon use to be on top of the list.
Actually the leader is the Seat Leon which is quite stable in terms of market share and a part two cases (in 2014 and 2015) with share at 3.2%, controls between 2.7 and 2.8% of the market.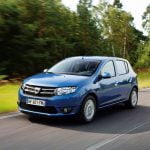 In second place the Dacia Sandero which  has gained terrain year after year scoring the best share ever in the 2019 with 2.6%. In third Nissan Qashqai controls 2.4% of share, the second best share after the 2.8% scored in the 2013.
In fourth place Renault Clio actually at 2.2%, only 0.1 point below the best share in this decade, followed by the Seat Arona, climbed in three years from the launch at 2.0%, taking space at the declining Seat Ibiza dropped at the negative record of 2.0% exactly the half of the 2010.
In seventh place the Opel Corsa at 1.7% ahead of  the Volkswagen Golf , the Peugeot 3008 and the Citroen C3.
Tables with sales figures
In the tables below we report sales for Top 100 models.